Why you SHOULD let your kid wear whatever she wants (and you could win a gift card from Justice!!)
To the mom whose kid wants to wear some crazy outfit today,
Been there done that. And I know exactly what's going through your head. "Oh no, I can't let her wear THAT out in public."
Maybe she's wearing rainbow shorts with a rainbow shirt. Or maybe she's put on her Halloween costume in July. Or maybe she's put her hair up in three ponytails with two headbands. And you can easily say something like, "Are you sure you want to wear that today?" or, "Maybe I can help you pick out something that goes better with those pants."
Or you can do what I do. No matter WHAT Zoey has picked out to wear, I say the same thing to her every time. "Wow, you look AMAZING!!" As long as she's wearing something that's seasonally appropriate and covers all the "necessary" body parts, I tell her she looks awesome, and out we go.
See? Here are some of the outfits she's worn over the years.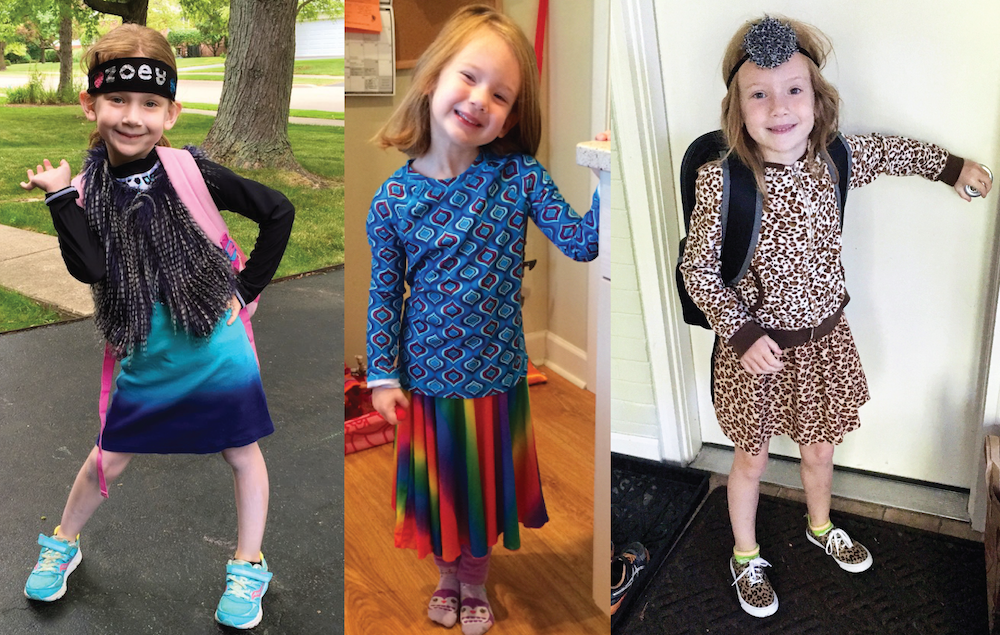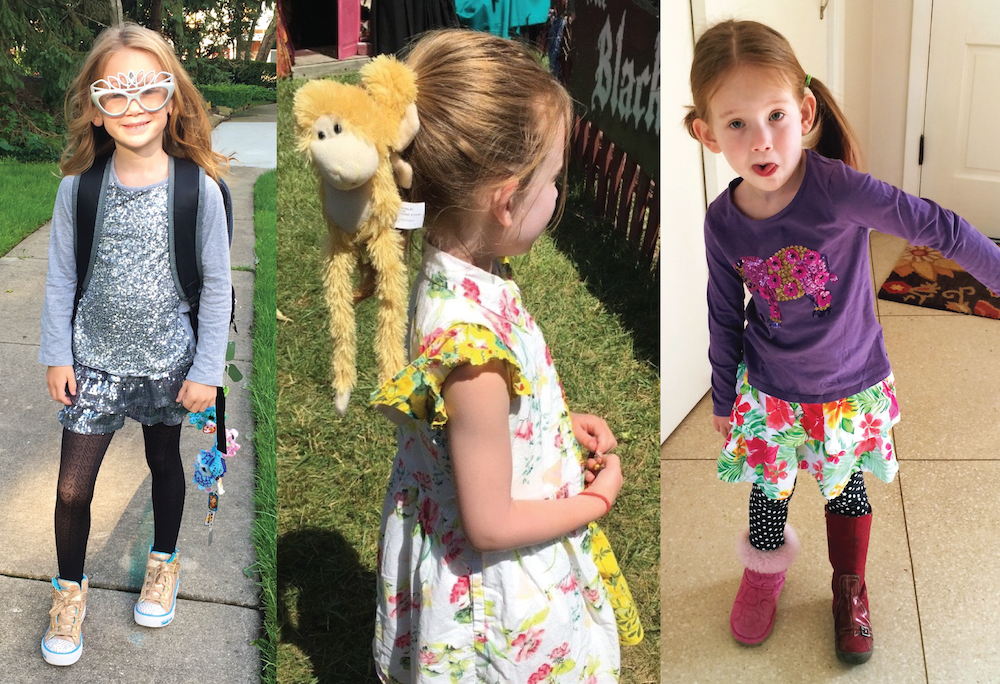 Seriously, she wore that monkey in her hair allllll week long like it was a real accessory.
Wait 'til you see the rest of them!! But first a tiny break from my awesome sponsor Justice!! And I'm giving away a kickass PRIZE today, so keep reading.
---
OMG, this is HUGE. Guess who reached out to Zoey?!! JUSTICE!!!!!!!! 
JUSTICE: Hey, we think Zoey is pretty awesome!!
ME: What a coincidence, I think Justice is pretty awesome!!
JUSTICE: Want to work together?
ME: YESSSSSS!!!!!!
Wanna know the biggest reason I love Justice? Not just because their clothing is adorable. It's because they totally want to EMPOWER girls. Like this weekend Justice hosted a nationwide fashion show in every store so that girls could come pick out their back-to-school outfits and then walk the runway in them and feel amazing before they go back to school. How awesome is that?!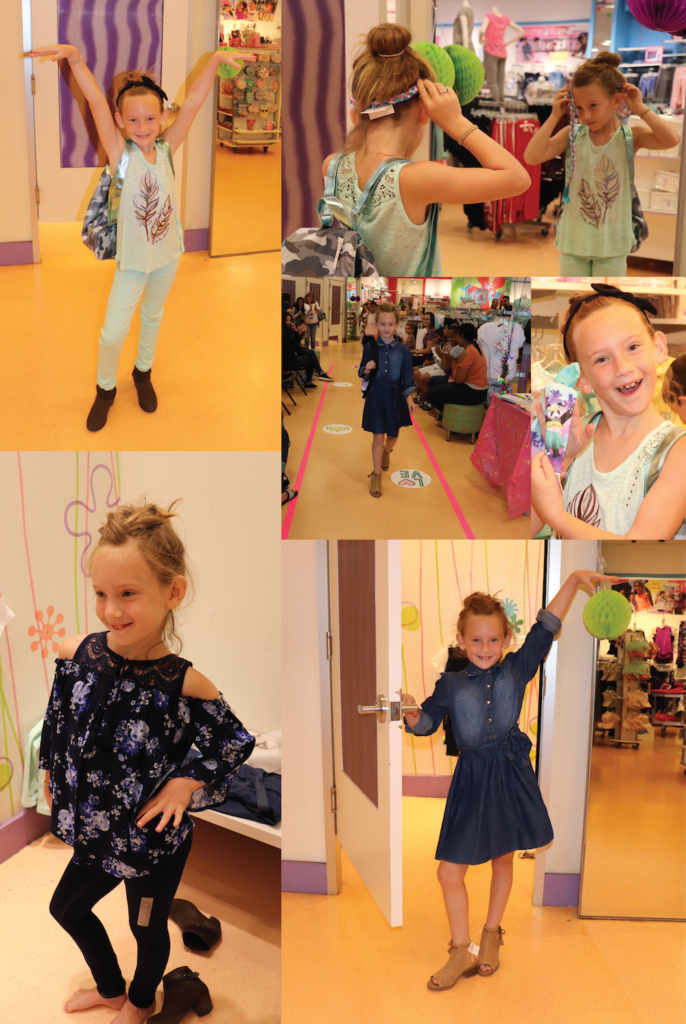 Zoey spent a lonnnnnnnngggggg time picking out her favorite outfit from Justice (including a headband that she wears in a unique way on the back of her head, and a very sparkly Panda backpack with ears), and then she ROCKED the runway. When they called her name, she strutted down that thing like she owned it. I mean I actually got a little teary-eyed watching the fashion show because literally EVERY SINGLE GIRL did that. Not just Zoey. As Justice called each girl out by name, she would strut down that runway and strike a pose at the end of it while the whole place clapped. It was pretty amazing.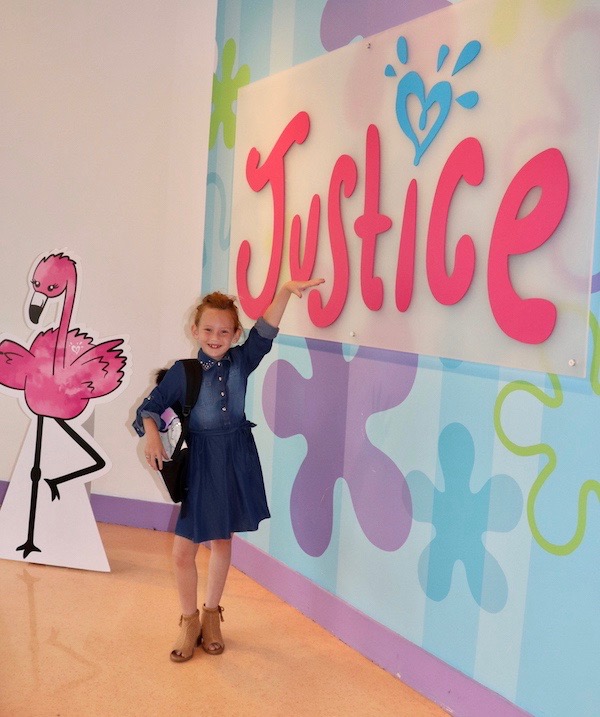 Oh, and here's the best part. Drum roll please, badadadadada, I'm giving away a Justice gift card at the end of this post!!! Don't forget to keep reading to see how you could win it!!
---
Wait , what were we talking about before the break? Oh yeah, some of Zoey's outfits. Wanna see some more?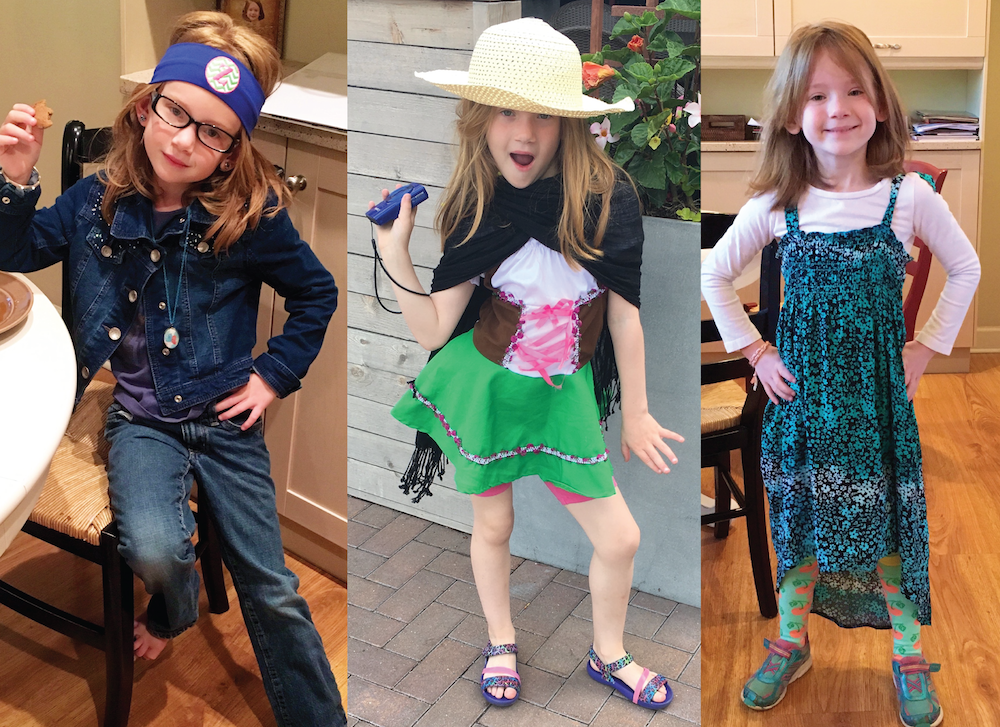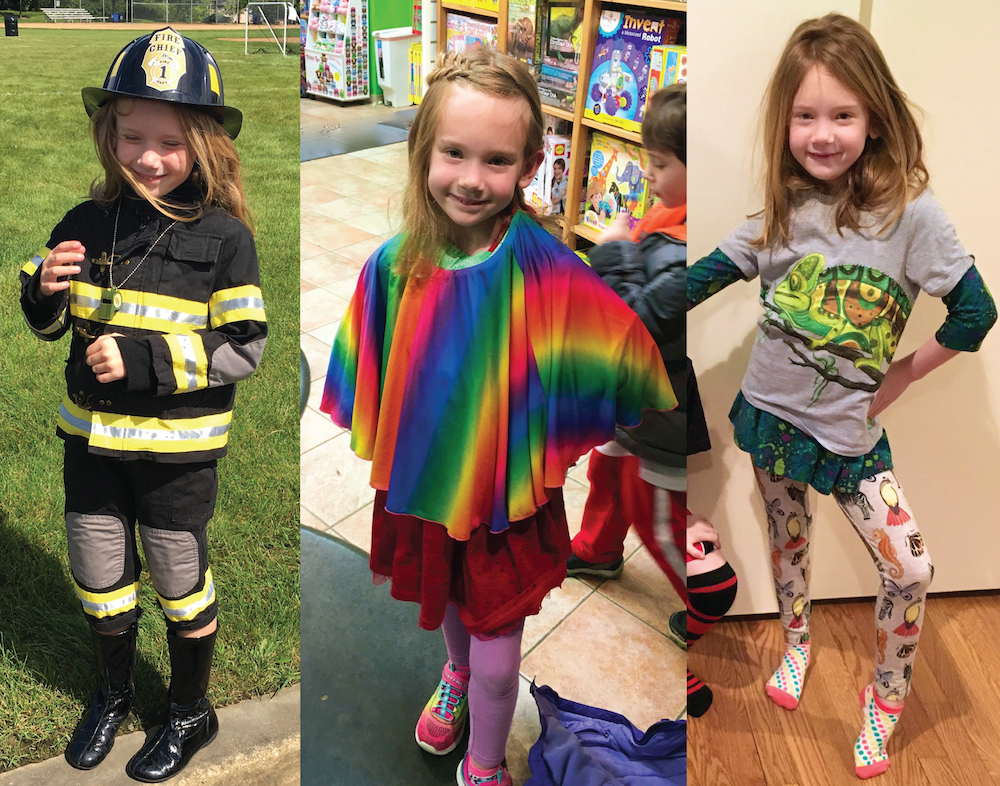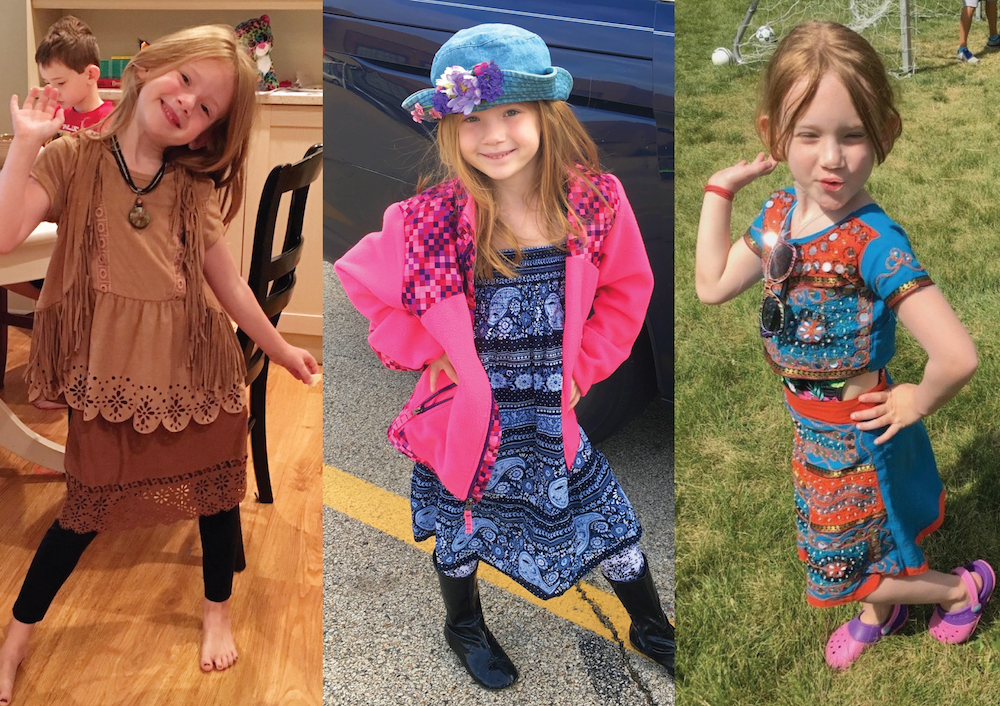 I let her wear every single one of these. Yup, out in public.
Don't get me wrong, I wasn't always like this. There was a time that I tried to steer her in a more, how do I say this, ummm, a more "regular" direction. But somewhere along the way I realized something. She is creative. She is unique. She is trying to express herself. And do I really want to squash those awesome qualities in her?
Because if you look closely, you can see the same thing in EVERY SINGLE ONE of these pictures. A girl who looks self-confident. A girl who's gonna grow up to be a fierce, independent, awesome leader.
So the next time your kiddo comes out of her room wearing a totally crazy outfit, let her wear it. A tutu over a superhero costume, her whole outfit backwards, cowboy boots with pajamas, whatever she puts together. If people stare, so what. Let them judge. I mean what's more important, what some curmudgeon old lady in the grocery store thinks, or what your daughter thinks. And you know what she's thinking when she wears something unique? She's thinking, "I am awesome." And I really can't think of anything better than that.
Sincerely,
A mom who's learned how to embrace the "awesome" in her kid even when it looks a little crazy
P.S. Want to win a $50 gift card from Justice?!! Perfect for a back-to-school outfit or new school backpack!! Okay, so here's what you need to do enter. Like this post, and then jump over to Facebook where I shared it and talk about your kid's sense of style. You can share it in words or with a picture of them. I'll randomly pick one lucky winner by Friday and reply to the comment (here are the official rules). I hope you win!!
If you liked this, please don't forget to like and share it! Thank you!!