Oh noooo, I think Zoey is super sad at camp!!
Does your kid's camp post pictures online? So you can get a small glimpse into what they're doing all day? Zoey's does. And I know it's supposed to make me feel good (about the 9 million dollars I spent there), but let me tell you something. It is turning me into a CRAZY person. Because this is what I do.
Refresh, refresh, refresh, refresh, allllllll morning long until I have carpal tunnel from my wrists up to my eyeballs. Has the camp posted pictures yet today? Are they up, are they up, are they up?
I've refreshed so many times that I think maybe I've broken the link so I close my browser and start over again just to make sure. Nope, still not up. Grrrrrrr. What is wrong with this camp?!!! Don't they know there are hundreds of moms staring at their screens just waiting? What on earth could be more important than putting up the pictures?!!! Oh yeah, maybe feeding and clothing and keeping a thousand campers alive. But AGGGHHHHHH, we are waiting here, people!
And then finally I refresh my browser and badabing, they're up!!! Wahooooo!!!! So I start the painful task of looking at each and every picture. Literally EVERY-SINGLE-ONE. I mean yeah I could just look for the ones of girls her age, but then I might miss one where she's in the background far away and blurry. It's like Where's Waldo only it's Where's Zoey and instead of looking for a red and white striped shirt and I'm looking for her rainbow bathing suit in a sea of a thousand girls. A thousand smiling girls who aren't mine.
Not her not her not her not her. Wait, is that her back? No, too tall. And then finally, I see her. Now let me give you a little background here.
After the first day of camp, these are the pictures I saw: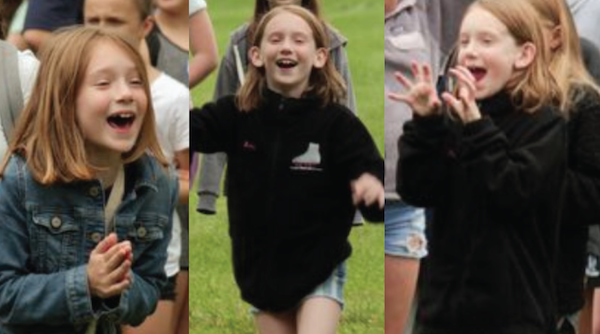 Clearly she's having the best time ever. Smiling! Cheering! With all her new friends! Yayyy, my girl LOVES camp!!
And then a day or two later, this is the picture I found. I'd recognize her blue raincoat and cheek anywhere. But seriously? One measly picture??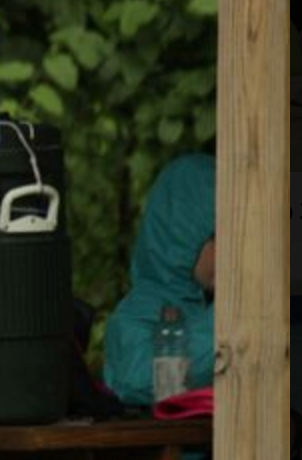 WTF? I mean I guess at least I know she's alive. 
And then the next few days go by with NOTHING. Don't get me wrong. There are pictures. HUNDREDS of them. Like my friend's kid is smiling in every other one (I'm pretty sure she's chase-quickpaying money to the photographer). But NONE of Zoey. I am convinced the camp has lost my child and just aren't telling me. 
But yesterday I woke up at 5am to start refreshing my browser. Click, nothing. Click, nothing. Click, nothing. Click, there it is! 282 pictures!! Yessss. So I start the tedious task of examining every single picture and then…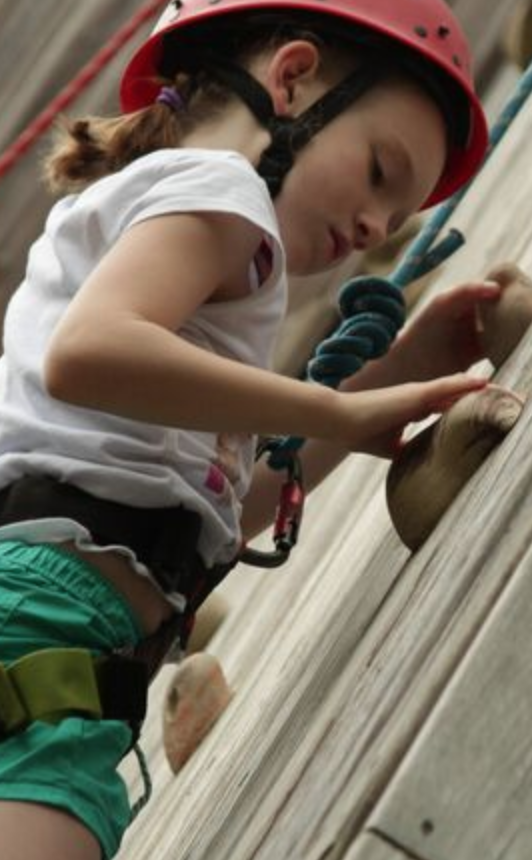 THERE SHE IS!! She's alive!! SHE'S ALIIIIIIVE!!!! But wait—why does she look so sad? Is she homesick? Is she having trouble making friends? Does she hate it there? Oh nooo, based on this one single picture, I am 100% convinced she's having the worst time ever.
So I stress and obsess over it and keep torturing myself and going back to look at her sad little face all day long.
But hours later something pops into my head. A thought. An actual rational logical sane thought. Wait a sec, I know why she's not smiling. Because she's climbing a wall. A CLIMBING WALL!! She's focused. It'd be weird if she was grinning ear-to-ear while she's doing that. Like one of those super annoying people who smiles constantly who I slowly back away from at social events. And it's not like the photographer who goes around taking pictures of the kids at camp tells them to look here and smile all the time. He's capturing them in the moment. 
The rational side of me decides there are two major things I can surmise from the picture. That A. she's alive. And B. she's climbing a wall. Period. And that's wayyy more than my parents ever got when they sent us to camp back in the day when the Internet didn't exist yet. 
So I make a vow. That tomorrow I'm gonna be different. I'll just go about my day and forget about the pictures and casually look at them later that night if I remember, and if I find one of her I won't obsess over whether she's smiling or not. Well, I'll try to be that way. And I'll fail. Miserably. Because I'm a mom and it's basically in my job description to obsess over the pictures. But at least camp is only a few weeks out of the year and thank God school doesn't post pictures every day for me to obsess over. I wish they did. Kind of. No I don't. But I do a little. 
If you liked this, please don't forget to like and share it! Thank you!!