The day I accidentally murdered someone
F me. Yes, I know those probably aren't the classiest words to start a post with, but I really can't think of two better words to describe the shitstorm that I brought upon my house this weekend. Are you ready for this tragedy?
So on Saturday night we went out with friends to a Mexican joint, and I don't know about you, but when I go to a Mexican joint, I drink. A lot. The menu said peach mango strawberry margarita, and I was like, yummmmmmmmmm, I'll have THAT.
WAITRESS: Which one?
ME: The peach mango strawberry margarita.
WAITRESS: Which one?
Uhhhhh, WTF? There are no commas between those flavors.
ME: Oh, is that not one margarita?
WAITRESS: You want them all mixed together?
ME: F yeah.
FYI, I did not actually say the words F yeah. What I actually said was, "Gffh bleeah," because I had just shoveled a handful of homemade tortilla chips that are clearly made with crack into my piehole.
And then the waitress came back with my huge-ass triple fruity margarita and I sucked that bad boy down. And then after that, I had a mojito. And then we went to a bar where I drank beer and won at darts. That is not relevant to this story, but I'm just bragging.
Anyways, to make a long story short, before we went to bed that night I forgot to move our GD elf on the shelf. Yup, the next morning he was still sitting at the bottom of the stairs exactly where he was all day. So when Holden ran into our room begging to go search for Christmas Light (the name for our elf), I was like awwwww shit. I quickly convinced him to stay in our room for a few minutes while I raced downstairs to move him.
Shit shit shit, where can I put him quickly before Holden catches me moving him? Agggghhh, why does he have to be so floppy? Why can't he have Velcro hands so I can clip him somewhere? Oh I know, I'll put him in the oven and make him peeking out and I'll put the oven light on.
(3 minutes later)
HOLDEN: I found him!!! I found him!!!
And that's where he sat, peering out at us through that little window all day long. Until…
(9 hours later)
HUBBY: Want to go out for dinner?
ME: (with an eye roll because WTF? Does he think we're made of money??) No, I have chicken and broccoli to cook.
So I turned on the oven to preheat it. Our kids had some friends over and their dad had arrived to pick them up but he was sitting at our table drinking a beer because the kids didn't want to leave yet.
BEER MOOCHING FRIEND: Karen, there's a fire in your oven.
Holy crap!!!! He's right!! And that's when I open the door to find this gruesome scene.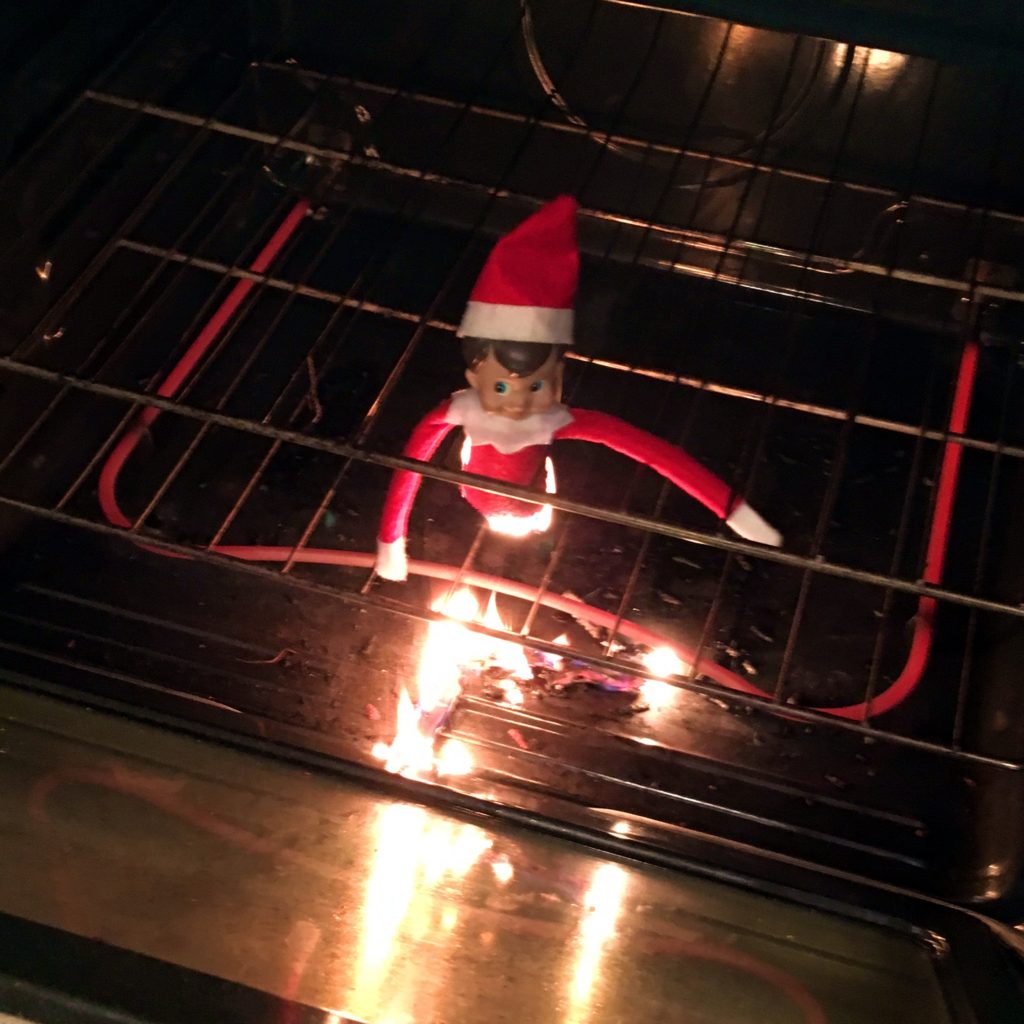 Noooooooooooooooooooooooooooo!!!!!! And the three adults sit there watching this poor little elfy burn because apparently none of us are very good at handling emergencies and we have no idea what to do.
And then suddenly the kids are running into the kitchen.
ME: STAY OUT OF THE KITCHEN!!!!!!! GET OUT GET OUT!!!
The kids CANNOT see this. Seriously, they will be scarred for life if they see their beloved elf up in flames.
OBLIVIOUS CHILDREN: Why Mommy? What's that smell?
ME: NOTHING! NOTHING!! IT'S NOT YOUR ELF BURNING. IT'S, UHHH, THE BROCCOLI. YEAH, YUP, THAT'S IT. I BURNED THE BROCCOLI.
And I slam the kitchen door in their faces and the adults watch the rest of Christmas Light go up in flames as we hear his little elf voice screaming…
ELF: Hellllppppppp meeeeee!!! It hurrrrtttts!!!
Then it's over.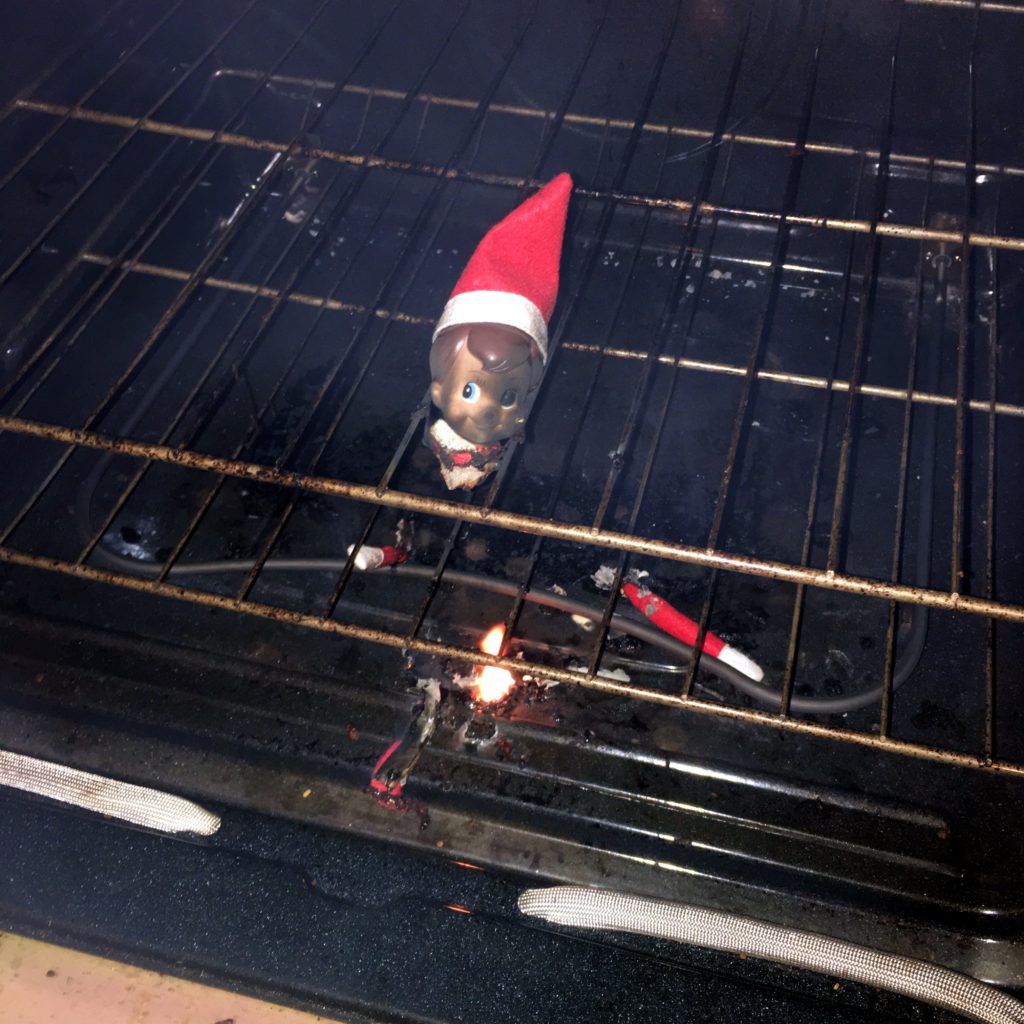 And our friend uses the kitchen tongs to extract the crisp limbs and head from the bottom of the oven and we put his smoking leftovers on the back porch. Anyone know where I can get an itty-bitty urn??
And then twenty minutes later we're packing up to go to Noodles and Company because I've decided not to cook in our oven that's coated in the carcinogenic remains of a melted polyester and plastic elf, when Zoey comes in screaming.
ZOEY: Mommmmmm!!!! Christmas Light is missing!!!!!!
Awwww shit, she noticed the empty oven.
ME: Ummmm, he told me he had to go away for a few days.
ZOEY: What?
ME: He left me a note.
ZOEY: Where?
And I run as fast as possible upstairs and jot out a barely legible note.
ME: (out of breath) See?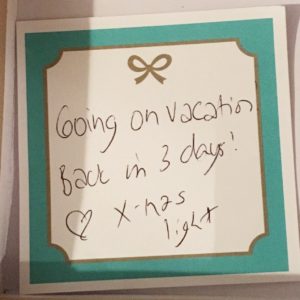 I read it out loud.
And there it is. The broken-hearted look in her eyes. Shit.
So three hours later, as soon as the kids were nestled all snug in their beds, I'm jumping on Amazon to order a new elf, only the little F'er is out of stock and won't arrive for at least six days and my note said three days, so now I have to order a more expensive version that comes with a stupid scarf and booties, and he should be here this afternoon. Let's just pray they don't notice that the elf's face has been modified a little over the years and now he looks cuter. But it's okay because I've already prepared my answer.
ME: Wow, I don't know where Christmas Light went for three days, but I'm guessing a spa vacation. He looks so well-rested and revitalized!!
Alas, my heart is heavy today but my wallet is a little bit lighter.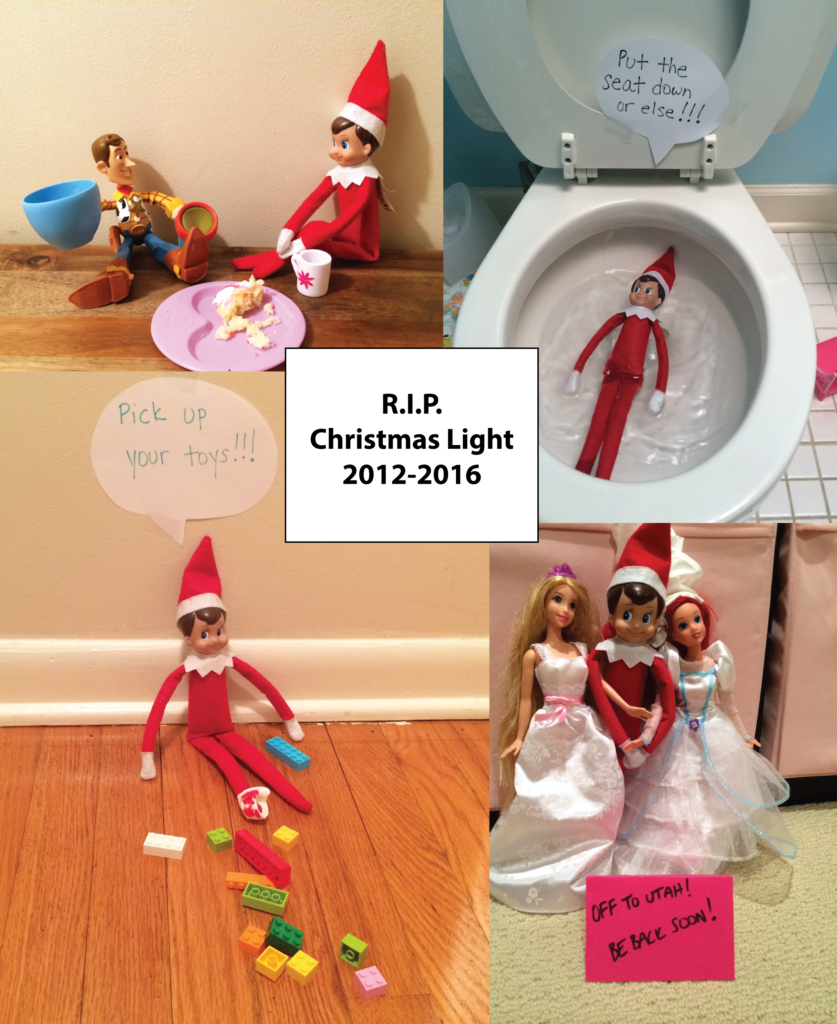 If you liked this, please don't forget to like and share it. Thank you!!!
And if you still have some holiday shopping to do (or haven't even started like me!) don't forget to check out my holiday gift guide!! It has lots of cool things for everyone in the family!!