I love you, honey, but we're not doing THAT again this year (you can win a $200 shopping spree in this post!!)
Dear Hubby,
So last year we had a conversation about holiday gifts, and I see where you're coming from. I understand that you REALLY want to pick out your own present and surprise me. And while I love the spirit of that, we've tried it your way for the past decade, and welllll, we're gonna do it a little different this year.
Because let's reflect for a moment.
Three years ago you got me a slanket. Yup, a blanket with armholes and leg holes. And the year after that you got me an electric blanket. Because you know, buying weird kinds of blankets for your wife two years in a row isn't odd at all. I know I always complain that it's freezing in the house, but that just means turn up the thermostat. That doesn't mean sprint to the drugstore the night before Christmas and find some "As seen on TV" scratchy blanket with limb holes in the clearance section. I'm sure you were like, "Score, it's on clearance!!" Just a little FYI, the clearance section is usually there because people didn't buy that crap in the first place.
Don't get me wrong, honey, I'm not implying that all of your gifts are crappy. Like that lapdesk you got me last year… sexyyy. All my friends are getting things like earrings and pajamas and picture frames and things they already use every day. But lucky me, I got something I've haven't owned since the 80's. Wanna know why? Because I don't need a stupid desk with a pillow attached to it. It's like you thought to yourself, heyyyyy, she doesn't have one of these so I'll get it for her! Newsflash, there are lots of things I don't have that I don't want. Nose hair trimmers, a shirt with a pilgrim collar, socks with toes, a thong bathing suit. You see, I've gotten to a point in my life where if I need something, I've probably gotten it already.
I'm sure you just read that and thought, "Oh crap, what do you buy someone who just said she has everything she needs?" Ummm, hmmmm, I don't know, maybe something she WANTS!!!!
So I've made it easy for you this year. You're not going to like this, but we work hard for our money and I kinda sorta don't want you to waste it on a stupid lapdesk, or a slanket, or an asparagus cooker, or a weird DIY massage thingie.
So here's what you're going to give me.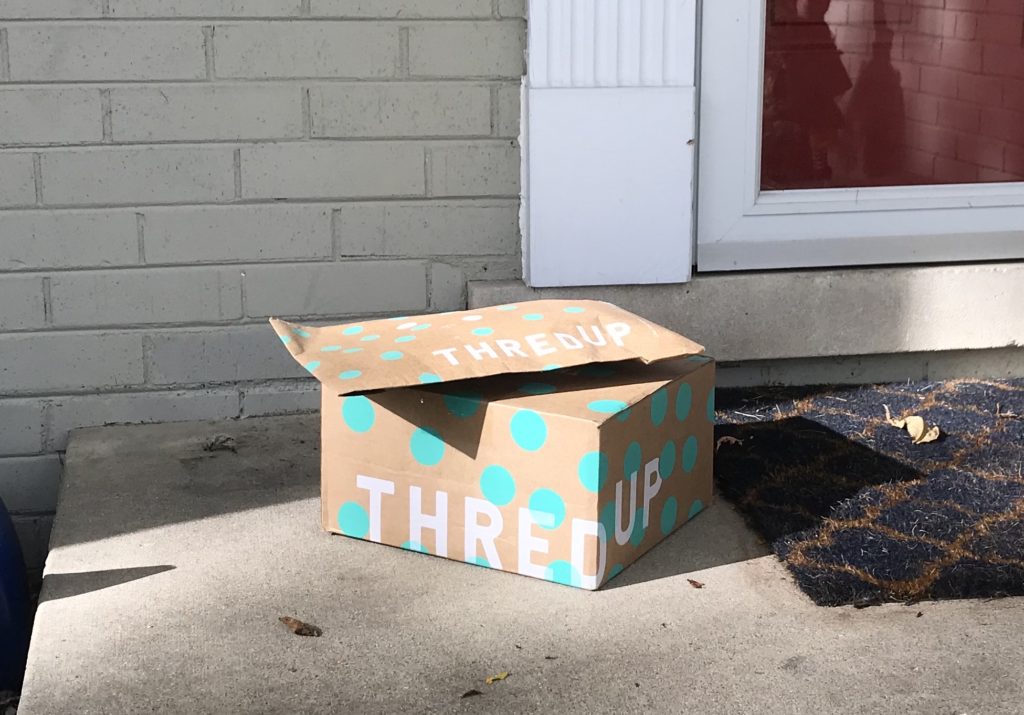 Yup, my ThredUP order arrived last week and if you give me what's inside, I promise I will act surprised and excited and grateful. Like for real. Not like when you gave me the asparagus pot and I basically earned an Oscar for this performance.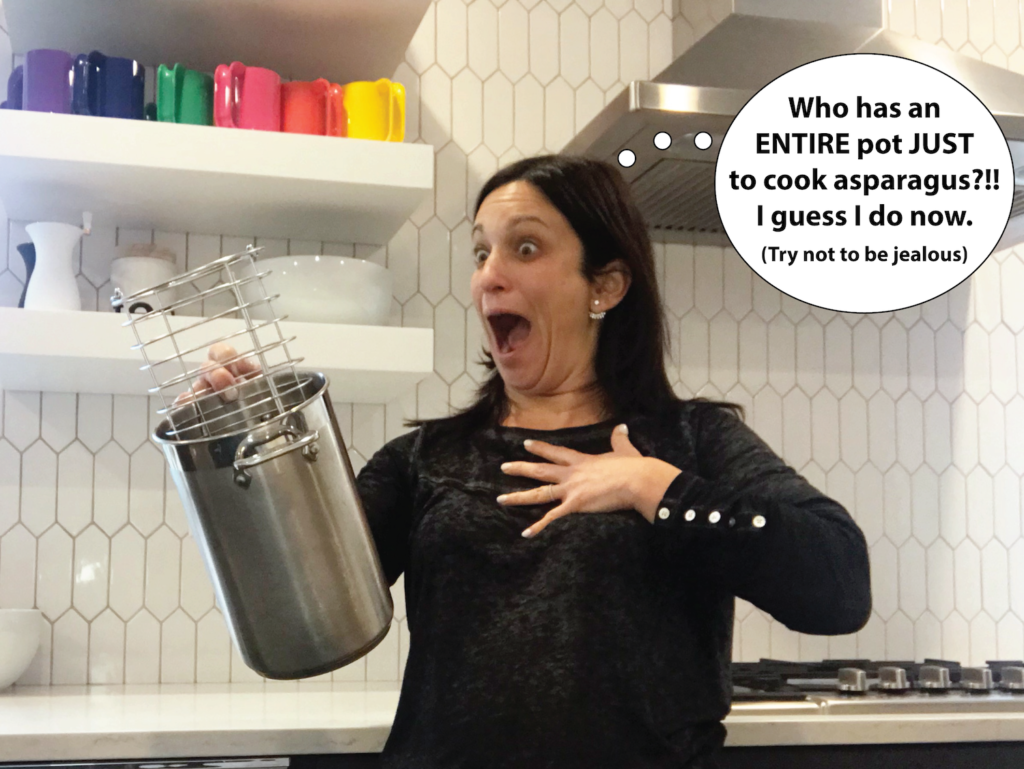 But not this year. Nope, I'm not gonna fake it this year. Because THIS is how I'm gonna look in all of my new adorable ThredUP clothing that I, uhhh I mean YOU got me this holiday.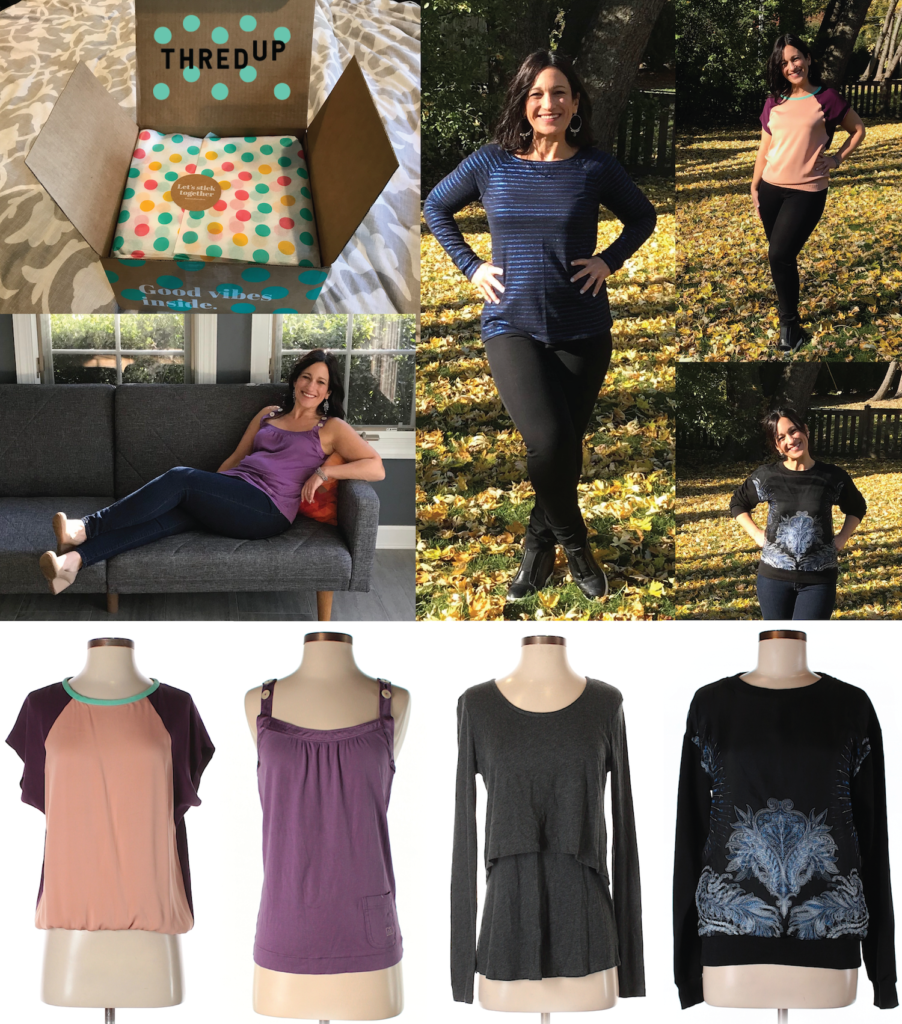 See? Genuine happiness!! And yes, I opened the box and tried it all on, but just because I was so excited and couldn't help it. It's all packaged up again (which was super hard to do because I am dyyyying to wear that cute peach top to our Moms Night Out tomorrow and that gray one on the mannequin is soooo soft and cozy and the purple Marc Jacobs top would look amazing for a holiday party I have next week). But no, no, no, I'm not going to wear them until you surprise me with them in the cute polka dot box.
Or if you REALLY want to surprise me, wrap it in actual real live wrapping paper. Not like how you usually wrap my presents in a cardboard box sealed with duct tape. You could even pop a bow on top. Just make sure I'm sitting down before you give it to me so I don't die from shock.
Love,
Your wife who just turned up the thermostat
I'm sure you know by now that this was sponsored by my amazing friends at thredUP, who are giving away a $200 shopping spree to one of you (woohoooooo!!!) so keep reading because I'm gonna tell you how to enter. In case you don't know, ThredUP is my favorite online consignment store with lots of amazing brands for wayyy less than the original price. Look at some of my new cute stuff!! I saved over $800 on my order!!!!! Wait until my hubby hears how much he saved!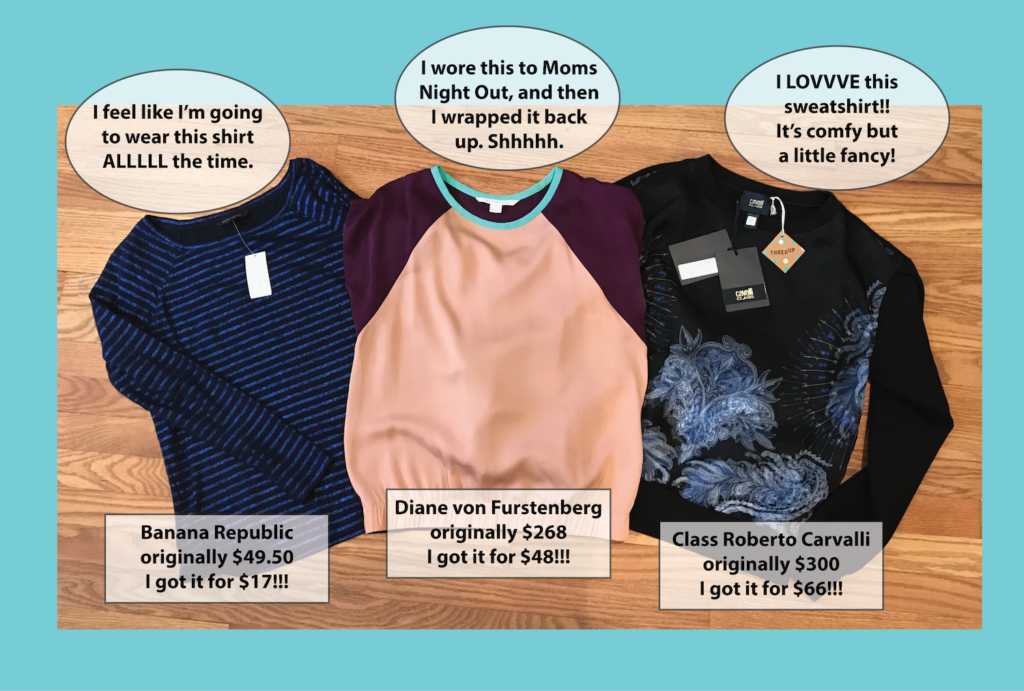 Plus, they tell you the condition of every item, so you know exactly what you're getting, and a lot of the items are even brand new WITH tags!! I'm getting my sister a designer purse, my mom a nice sweater, and Zoey a bunch of cute animal print clothing. Shoot, I hope none of them are reading this.
Anyways, here's how YOU could win the shopping spree. Leave me a comment here or on my Facebook page and share the url to one product you would love to get this holiday from thredUP. Oh, and the first hundred people to use the code SIDEBURNS40 at thredUP will get an extra 40% off their first order (new US customers only, redeemable online. Certain restrictions apply). Yayyy, more money off!!!
I'll randomly pick a winner from the comments on November 17 at noon and I'll respond to the winning comment. Eeeeks, I hope it's you!!! Wouldn't that be exciting?!! A $200 shopping spree just in time for the holidays (here are the official rules in case you feel like reading boring legal stuff)!!
Okay, off to tell my hubby something else he's doing wrong.
If you liked this, please be sure to like and share it. Thank you!!
 #sponsored #ionlypromoteproductsireallylike #likethredUP