Acadia National Park might be better than Disney World (I can't believe I just typed that)
It killed me to write that title. KILLED me. I mean Disney is like my absolute favorite place on earth. At least that's how I felt three weeks ago. This summer my hubby and I each planned a family trip to celebrate our ten-year anniversary– mine was to Disney World and his was to Acadia National Park in Maine– and when both trips were over we asked Zoey which one she liked better, and guess what she said?
ZOEY: Acadia!!
ME: Nooooooo!!!!! But what about Space Mountain?! What about the Peter Pan ride?! What about that magical moment we were watching the fireworks explode over Cinderella's castle and there were literally tears in my eyes?!! How could Maine be better than that?
ZOEY: Nature.
Deep down inside I know that Zoey might be (see, I still can't admit it completely), she might be right. I mean our vacation to Acadia was magical. It's like this rare little spot on the planet that is still untouched by humans and is absolutely magnificent.
And it made me realize something. We should all take our kids to our National Parks. I always hear parents say, "We still haven't taken our kids to Disney World," but I never hear them say, "We still haven't taken our kids to a national park."
I can't really explain to you the feeling you get when you stand on the top of a mountain with 360-degree views of the ocean, or the feeling you get when you turn over a rock and find two sea stars clinging to the bottom of it, or the feeling you get when your kids are completely silent because they don't want to scare away a baby loon and his mommy, but I can tell you what we did while we were there so you can bring your own family to Acadia and feel those amazing feelings for yourself.
So I'm not an actual travel agent, but if I were this is what I would tell you to do there: 
Diver Ed
When my hubby booked something called Diver Ed a week in advance, I was like yeah, okayyy,  something educational. I just assumed Ed stood for education. I was wrong. Ed is like the most High-larious human being ever. So Ed goes scuba diving on the bottom of the freezing cold ocean and you get to see what he sees down there while he narrates and you nearly pee your pants because he's so funny and he talks about butts and pooping a lot so the kids are dying of laughter. And then he brings all of the stuff he found up to the boat (sea stars, lobsters, and sea cucumbers, oh my!). 
Hiking
So my hubby and I have been putting off a trip to Maine for years because we were worried our kids wouldn't be able to do the hikes. But here's the awesome thing. If you go to the Acadia Visitors Center, they will sell you a $5 map and you can see how difficult the different hikes are. Believe it or not, Zoey (9-years-old) and Holden (almost 7-years-old) actually completed one of the strenuous hikes. Mt. Penobscot, a 1200-foot mountain with 360-degree views of the ocean at the top. It was gorrrrrgeousssss. Wanna know the most beautiful part about it? Not a single complaint or fight the entire trip!
P.S. Our family has a little tradition where at the beginning of the hike you pick one very lucky rock who gets to go on an adventure and you take "him" up the mountain with you and leave him up there. The kids loved it!! Although Zoey had to be unique and choose a baby pinecone instead.
P.P.S. We also did the Great Head Trail which is shorter and easier and gorgeous on a clear day!!
Becoming a Junior Ranger
If your kiddo wants to take an oath and become a Junior Ranger, alls you gotta do is stop by the Visitors Center and pick up one of the Junior Ranger booklets. Your kiddo can complete the booklet over your vacation and become a REAL Junior Ranger with an actual ceremony!! Zoey was beyyyyond excited about this. Holden, on the other hand, was like I don't give a crap about that. Bah humbug, Holden!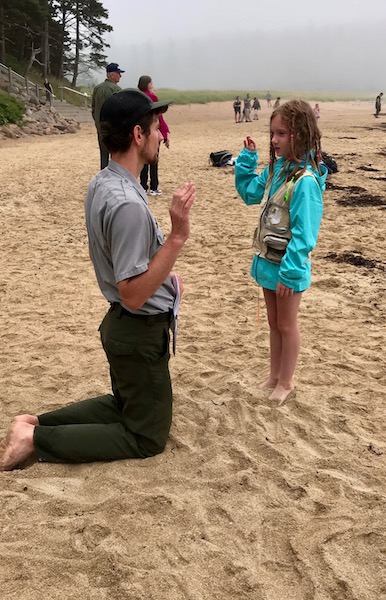 When you're at the visitors center, also ask about any special classes for the kids. We took ours to one called "Sand Sleuths" and Park Ranger James taught them all about what sand is made of and it was super cool.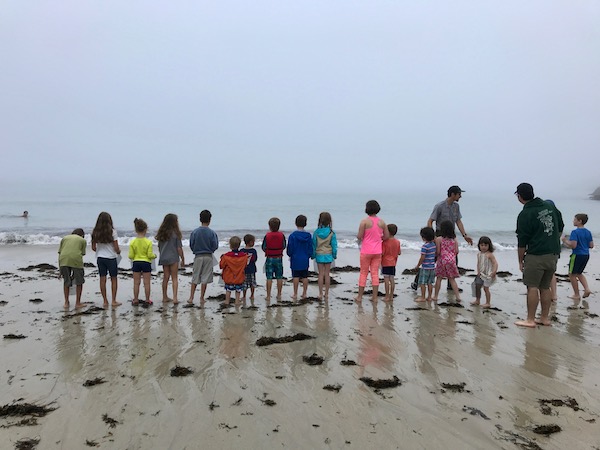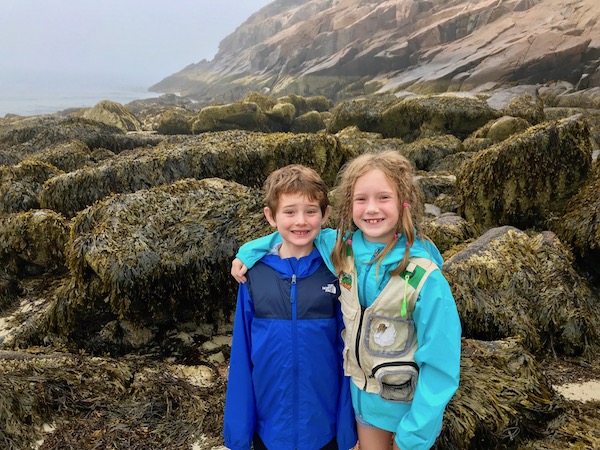 P.S. If your kid wants a vest like Zoey's, here's where you can get it. Her friend picked it out for her for her birthday, and Zoey has been wearing it for years.
Walking to Bar Island
Nope, that's not a typo. You can actually walk to an island. But wait, Baby Sideburns, I'm not Jesus, I can't walk on water!! Uhhh, you can when the tide is really low. At low tide in Bar Harbor (look it up online because the time changes every day), you can literally walk on the ocean floor, and there are sooooo many cool things to discover there. Crabs, sea stars, snails, sea glass, other stuff I can't remember right now, etc etc etc.
So there you go. Now you can go to Acadia and you don't even need a travel agent or anything. Don't forget to pack raincoats (Maine weather is all over the place) and don't forget to stop at the Trenton Bridge Lobster Pound for the BEST LOBSTER ON EARTH. Seriously, they cook it in sea water. Plus they have PB&J for the kids with a marshmallow on top in case your kids are super picky eaters like someone I know.
And don't forget to eat ice cream after every meal. Note, I did NOT say after DINNER. I said after EVERY meal. Breakfast, ice cream, lunch, ice cream, dinner, ice cream. Our two favorite ice cream places were Ben & Bill's Chocolate Emporium (don't worry, the lonnng line goes fast!) and Mount Desert Island Ice Cream (for more unusual flavors).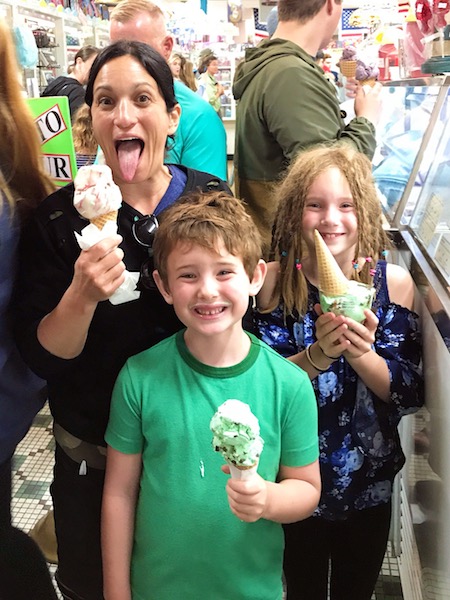 Skip Disney one year, skip your annual trip to the beach, skip skiing, skip Mexico, skip Atlantis. And go to a National Park instead. You will NOT regret it. In fact, you may even decide not to come back. I did. But my hubby said we couldn't do that. Bah humbug. 
If you liked this, please don't forget to like and share it. Thank you!!