Holy crap, alrighty then, guess we're throwing away all of our toy guns
Okay, so this is no secret, but I'm not a huge fan of guns. Don't get me wrong, I come from Texas where most of my friends owned plenty of guns and I'm not trying to take away people's gun rights, and I think there are perfectly reasonable reasons to own a gun. But honestly speaking, they're not my favorite thing.
So when Holden would walk into Toys R Us back in the day (wahhhhhhhhhh, I miss youuu) and ask me to buy him a gun, I'd be like not gonna happen. No toy guns that look like machine guns, no toy guns that look like pistols, no toy guns that look like rifles, etc etc etc. With two exceptions. Water guns and nerf guns.
I don't know why I thought these kind of guns were different, but I did. Maybe because they were made with bright colors and not made to look like a real gun. So when Holden wanted a nerf gun, I was like "okie-dokie, kiddo." Shit, I hope I didn't actually use those words. Shit, I probably did. Anyways, we got him a nerf gun. And when he wanted a bigger nerf gun with a magazine that held nerf bullets, I was like sure. And when he wanted an ammo vest to hold even more nerf bullets, I was like woohooo, the perfect present. And I would let him go in our backyard and I'd stack cans and milk cartons on our playhouse and he could have target practice. Did I like seeing him all weaponed up like he was Arnold Schwarzenegger in Predator? Nope. Not so much. But he was happy and entertained and I could fit in a real shower without interruption.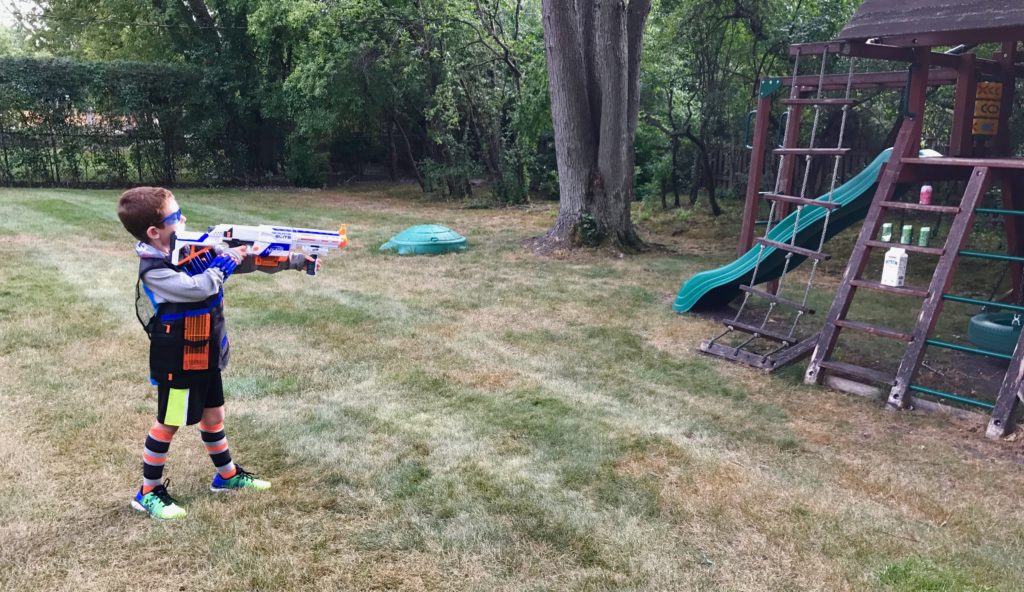 And honestly, even if you don't give you son toy guns, they'll figure out a way. They'll turn a stick into a gun, or a bagel into a gun, or build a gun out of LEGOs and make little peew peew peew noises and shoot their friend across the table. So what was the harm in giving him a bright blue and orange plastic gun? I was all about the nerf guns. Until the other day.
So I'm in the kitchen having a relaxing moment washing the dishes without anyone bothering me when I hear Holden and his playdate in the other room. I hear the pop of a nerf bullet and then…
HOLDEN: Got him!!
So I stopped washing dishes for a minute to go check and that's when I saw it. They were shooting nerf guns… AT THE CAT. Our very slow very old nineteen-year-old cat.
Oh hellllll noooooo. Based on the fact thatHolden was the one shooting and his friend was giggling on the couch, I'm pretty sure it was Holden's idea. I don't know exactly what I said to him, but I think my head spun around and venom projectile shot out of my mouth.
Kids do naughty shit all the time. You wanna write on the walls? You will be punished. You wanna talk back? You will be punished. You want to shoot small defenseless little animals with nerf bullets? You will be punished like you have no idea. And he was. 
Screen time gone for a week. Dessert gone for a week. Nerf guns gone. NOT for a week. FOREVER. Once his friend was picked up, I made Holden walk around the house and collect ALL of his nerf guns and now they are sitting in our donation pile and will go to some kid who will hopefully use them to shoot inanimate objects. And ONLY inanimate objects.
But later that evening, after my blood stopped boiling and my canines shrunk back down to normal size, I talked to Holden about why he should never ever shoot an animal.
ME: Hey buddy, how do you think that made the cat feel that you were shooting him?
HOLDEN: (with tears in his eyes) Bad. And sad.
ME: Is that how you want him to feel?
HOLDEN: No.
And he walked over to the cat and crouched next to him and whispered, "I'm sorry for shooting you," and gave him a big hug.
And all evening I was feeling super guilty about even owning toy guns in the first place. But then I realized something. Maybe it's a good thing we bought nerf guns after all. It gave me a moment to teach Holden that there's a right way to use a gun (target shooting in the backyard) and a very wrong way to use it (on anything alive).
Will he be getting his nerf guns back? Hell to the no. But at least now I know that if he goes to someone else's house who has nerf guns, he probably won't to use them to shoot their golden retriever. And he knows that if he does, he'll be grounded for the rest of his life. Which will be a very short life because that's how mad I might be.
If you liked this, please don't forget to like and share it. Thank you!!