How to tell your kids when their pet dies (grab a tissue)
Don't get a pet. Do you know what they do? They make you fall madly in love with them and then they leave you. Now I know.
It all started twenty years ago when I was young and stupid and had this random idea to swing on over to the animal shelter and pick up a kitten. You know, like I was running to the grocery store to buy ketchup, only it wasn't a condiment you stick in the fridge. It was a pet. A real live pet.
I distinctly remember getting this little guy home and watching him climb in and out of a McDonalds bag on the floor and thinking, "Awwwwww." And then two seconds later thinking, "WTF did I do? I am now in charge of a life." Me. All alone. Panic set in.
But fast forward nineteen years—a move to Boston, a move to Chicago, a new husband, two kids—and my little fur baby was still with me.
As much as I had taken care of him all these years, he had taken care of me.
He greeted me every time I walked in the door, he followed me everywhere, he slept with me every night, he cuddled all the time, and if I wasn't paying attention to him he'd knead my back with his paws or meow at my feet or lie across my keyboard pressing down the keys messing up whatever I was typing. In fact, here's a little keyboard memorial to him: kuukkuuuuuuuuuuuuyyyuuuuuuuuuuuuu.
But a year or so ago he started having seizures. I thought that was the end but I was wrong. It was just the beginning of the end. There was still plenty of time to be worried, and sad, and cuddle, and celebrate life, and prepare the kids for the worst. So I started to say things once in a while to let them know what was going on. 
ME: He's getting older, guys.
ME: We're lucky we've had him this long.
ME: It will be very very sad when it happens.
ME: He's had a very long very happy life, and you guys have given him so much love.
Zoey was worried about her little buddy. There were a couple of times over the past year that she would randomly burst into tears because she was thinking about him dying. And then one day she said this.
ZOEY: Mom, I don't ever want a dog.
ME: You don't?! I'm surprised. Why not?
ZOEY: Because that means 9-0 died.
Oy. Hearing your kiddo say something like this is a punch to the gut. But he kept on going and going… until the past few weeks. 
I noticed his food bowl was barely touched. And he was sleeping almost all day. And the only time he would leave the bed was to come down during dinnertime to be with the family. Seriously. He'd sit there meowing and meowing and I thought he wanted food so I put cheese on the floor but he didn't eat it so one day I picked him up and put him on a chair and he was happy. So we started doing this every night. 
But he wasn't eating. Not at the table. Not from his food bowl. Not on the floor. So on Monday I took him to the vet pretty much knowing what he was going to say.
ME: How do we know when it's time? I don't want him to suffer.
And the vet looked at me…
DR. MIKE: I think this week.
I felt my heart hurt. Like literally hurt. But it wasn't hurting for me. It was hurting for my fur baby. And for my other babies. So my next question wasn't one I'd planned on asking.
ME: Do you have any advice about telling the kids?
And he did. He said to be very honest with them and that it's good for them to grieve right away. That you don't want them to bottle up these feelings because then they resurface months later. And then I asked him another question I hadn't planned on asking.
ME: I think I know the right answer, but do people bring their kids when they put their pet down?
He told me that some people do but that he wouldn't recommend it. He explained how kids can't always tell when the pet has passed away and that he's seen kids start pushing it to see if it's still alive and that it's just not a great experience. I kind of thought that was the right answer for us but I needed to check. I needed to have an answer in case my kids asked if they could be there. And I'm sure all kids are different. Some can maybe handle these moments, but I was pretty sure mine would not be able to. 
So when I got home, I told my hubby who was surprised/devastated/not convinced it was time yet. But I assured him it was. And we looked at our calendar to figure out when it would be a good time to tell the kids.
ME: Nope, Holden has soccer tryouts tonight. And Zoey has ice skating tomorrow night. Not then, I don't want to upset her right before her slumber party.
It felt sooooo wrong. Trying to fit our kitty's death into our hectic schedule. But I think it was kind of our way of putting it off. We agreed to tell them next Monday on Memorial Day and do it on Tuesday when they went back to school.
But you know what they say? God laughs when you make a plan.
On Monday night, 9-0 was suffering. I could see it. I won't go into the details because that's not the way I want to remember him, but a little after midnight, we decided the nice thing to do would be to let him go the next day. Which meant telling the kids before school so they could say goodbye. It wasn't ideal for them. It wasn't ideal for us. But it was ideal for our pet. Well, as ideal as dying can be.
ME: Guys, we love him sooooo much, we don't want him to suffer. That's why we should do it. 
Needless to say, their reaction wasn't good. In fact it was horrible. Heart-wrenching. But I just kept telling myself that the doctor said that's the way you want it to happen, so it doesn't resurface later. We let them cry. We let them be sad. We didn't try to make them feel better or tell them it would be okay or that time would heal. We said things like…
ME: It just stinks.
HUBBY: It's okay to be really sad.
ME: He had such a wonderful long life filled with love, and in some ways that makes it harder to say goodbye.
After I dropped the kids off at school a little late, I sent their teachers an email to let them know what was going on just in case. And at 10:30 my husband and I went to the vet and I cradled my kitty in my arms while he looked into my eyes and passed away. The doctor was right. He didn't look dead. He just kept looking at me with his sweet eyes. But he was gone. 
Both teachers sent emails back saying the kids seemed fine at school—which was what I hoped would happen because they'd be distracted—but as soon as they stepped in the car, they both burst into tears and asked if it was done.
ME: Yes it is…
And I made sure to add
ME: … I held him in my arms and it was very peaceful when he died.
I wanted them to know it was a nice way to die. Holden asked where he is, and I told them that 9-0 was cremated with other animals so he's not alone, and we said that heaven for him is probably Daddy's armpit because that was his favorite place, and even though we were sad, that made us laugh a little. Then we spent the evening fluctuating between being normal and being sad, especially when we looked at our bed and he wasn't there. 
And the next day I went through alllllll of my pictures of him and made a sweet memorial video that I'll show the kids one day. But not today.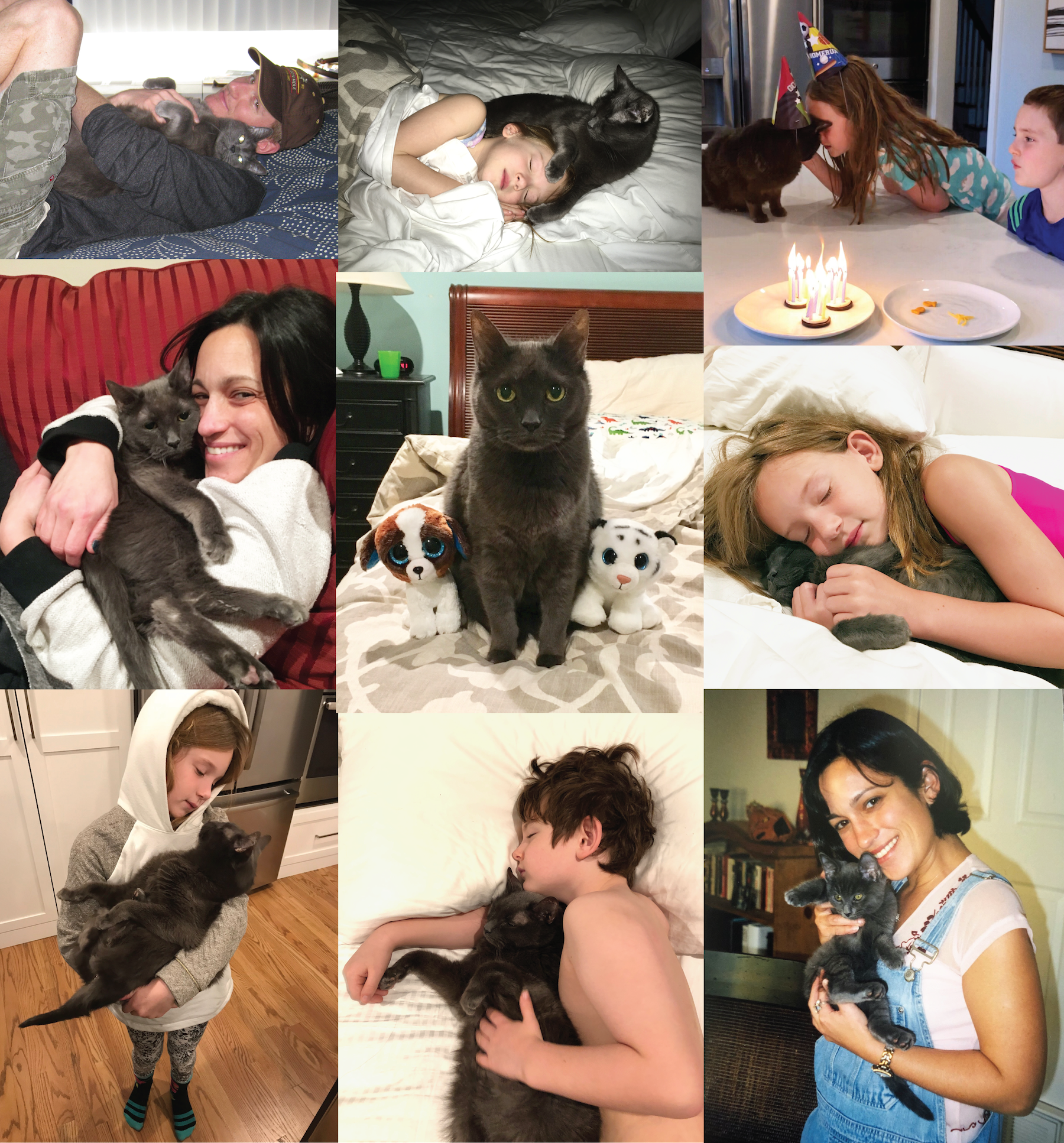 But looking at all of the pictures made me realize something.
Even though our pets almost never live as long as we do, even though they make us fall madly in love with them and then they leave us, the amount of love we get while our pets are here makes it all worth it.
So I take back what I said. Get a pet. Get two pets. Get a bunch. One day they will make you very VERY sad, but you will never ever regret it. 
If you liked this, please don't forget to like and share it! Thank you!!