THE TIME I DIDN'T PUSH MY KID TOO HARD AND JUST LET HER SUCCEED WITHOUT ME
Okay, so the other day I woke Zoey up and here's the first thing she said. "Mom, can I make breakfast?" Part of me wanted to be like, "And make my kitchen look like Hiroshima? F**K no." But somewhere inside my head a little voice was saying, "Let her try." Now I don't know about your little voices, but mine tell me to do some pretty awesome shit (that I can't divulge here), so I like to listen to them.
ME: Sure, Zoey. Go potty first and then you can go do it.
By the time I came downstairs, Holden was eating a bagel with cream cheese and raving about it.
HOLDEN: Zoey, I LOVE this bagel and cream cheese.
Awwwww.
HOLDEN: It's the BEST one I've ever had.
Hmmmm.
HOLDEN: It's way better than Mommy's.
Dude, it's a crappy bagel with a schmear of cream cheese on it. It's not even toasted because God forbid there's a brown line that makes it inedible. Anyways, while he was busy relishing every moment with his magnificent bagel, she was doing this for me.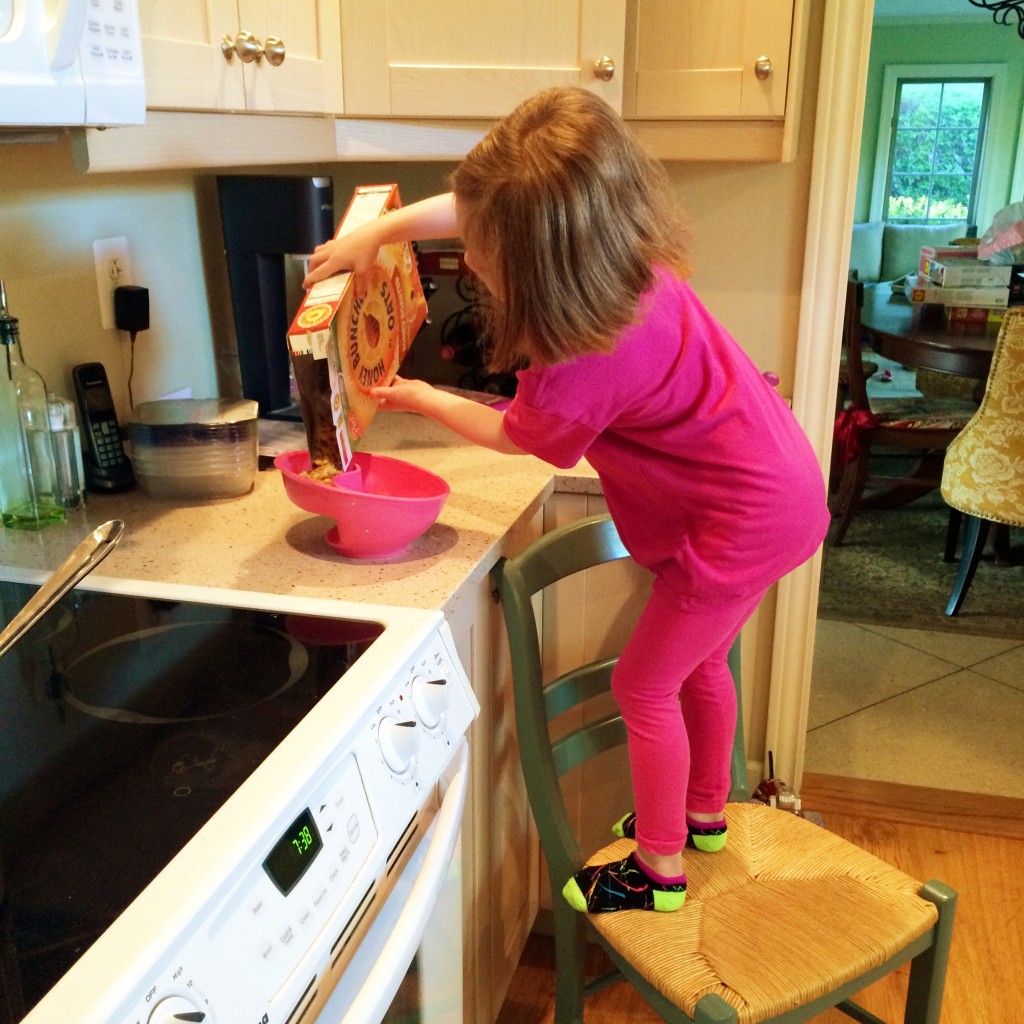 And here's what I wanted to say:
ME: Be careful. Don't spill it. Do it slowly. I don't need too much. Stop. Stop! STOPPPP!!!!
But I bit my tongue and watched, and this is what I said instead.
ME: Look at you! Nice work, Zoey.
And then I sat down and realized Holden was right. This was the best damn bowl of cereal I have ever eaten in my entire life. Have you ever noticed that food always tastes better when someone else makes it?
(Cut to later that day when we all got e-coli because she never washed her hands. Kidding. That didn't happen. But seriously, cut to later that day when she came home from school.)
ZOEY: Mommm! There's an important note in my folder!!
Ruh-roh.
ME: What is it?
ZOEY: We get to be the teacher at school and teach something.
Phew.
ME: Awesome. What do you have to teach?
ZOEY: Anything I want!
And then she handed me a yellow piece of paper and I started to read it. Each kindergartener would get to present to the class and teach them anything they wanted to demonstrate.
ZOEY: I want to teach them how to make breakfast.
Seriously? That's the best thing you can come up with? I mean I didn't actually say this out loud, but I nodded my head like her idea was really good and started to think about other ideas that would be much more impressive. I mean my kid is pretty darn smart (I'm a little biased) and surely she can teach something more complicated than how to pour a bowl of cereal.
For days I thought about other shit she could do. She could teach them how to build an amazing Lego set. She could teach them about volcanoes. She could teach them how to put a mentos in a diet coke and make it explode. She could teach them about all sorts of shit that's way more interesting than a stupid bowl of cereal.
About a week went by before we touched that yellow sheet of paper again. I prayed she had forgotten about the breakfast idea, but as soon as I suggested we fill it out, she was all yap yap yapping about teaching her class how to make breakfast. She was so excited about her idea. Was I going to be a total a-hole mom and push her to do something else? Something I wanted her to do?
So we started to fill out the sheet. Here it is.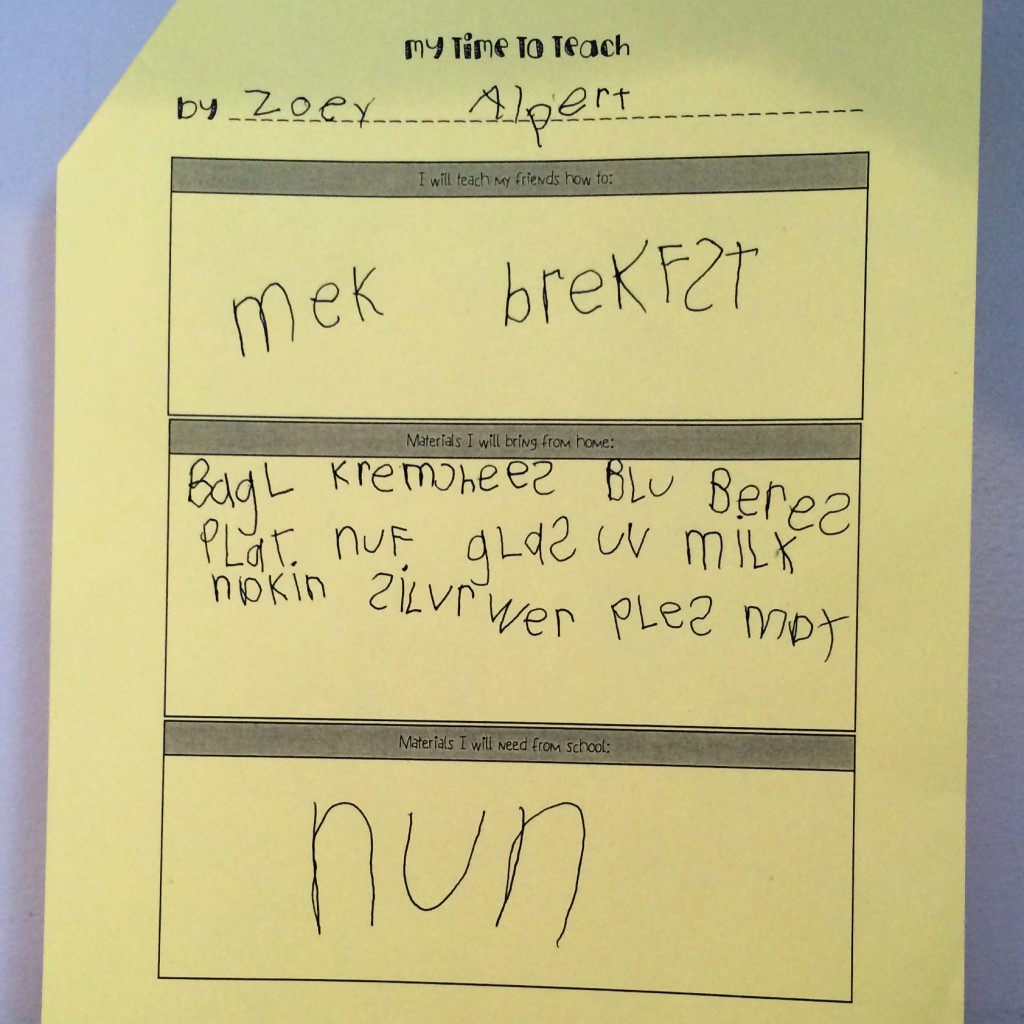 Where the hell is spell check when you need it? And I don't know where she's gonna find a nun at her non-parochial, public school. But besides that, it looks pretty damn good.
And as she wrote out all the details, I started to realize two things. One, making breakfast all by yourself can be a pretty complicated thing for a six-year-old. I mean no, it's not brain surgery or a giant amazing mentos fountain, but there are a lot of steps, and duh, maybe it's easy for me because I've been doing it for 35 years.
And two, my kiddo is stepping up in front of her class for the FIRST TIME EVERRRR!!! And I want her to be super excited about it and make the best F'ing bowl of cereal that's ever been made and feel like a billion bucks when she's done.
So when the day comes for her presentation, I'm gonna tell her two things. Kick butt. And if you get nervous standing in front of all those kids, just picture them in their Captain America and Elsa and Anna underwear.
If you liked this, please don't forget to press the facebook like button and to comment on it on my Facebook page. Thank you!!
And please don't forget to subscribe to this page so you don't miss any of my hopefully hilarious shit.