The thing every girl should know BEFORE she gets her period
So the other day I was having a girls' day with my daughter Zoey and we were in the restroom together and she saw the tampon machine on the wall and asked me what it was (she sees anything with a coin slot and automatically thinks treats are gonna come out). Because I was totally unprepared, I panicked and failed miserably at explaining to her what a period is.
ME: Uhhh, that's a tampon. When you get older, you're gonna start bleeding out of your you-know-what and, ummm, that's what you use to stop the blood.
ZOEY: Can we go get frozen yogurt?
Thank God as soon as she realized an edible treat wasn't coming out of the machine, she stopped listening and I didn't scar her for life. At least this time. Anyways, I wish I had thought about what to say in advance but I was totally caught off guard. This is what I wish I had said:
Dear Zoey,
You are a girl. And do you know what that makes you? Lucky. Incredibly lucky. Because guess what girls grow up to be? Women. And being a woman is one of the most amazing things on this planet.
You know how they always say girls can do anything boys can do? Let me tell you a little secret. You can do everything boys can do, and MORE (shhh, don't tell your brother). Because one day you'll be a woman, and women can do something pretty amazing. They can have babies. Like one day you will be able to grow a real live human being inside your body. How amazing is that?!
Sure, you'll need a little help from a man to get started (we can have that conversation later when you ask me and I hyperventilate into a brown paper bag). But really, YOU are going to be the one who grows the baby. From just a few little cells to a full-fledged human being with eyes and ears and a brain and lungs and a beating heart. It's science, but it'll feel like magic.
And soonish, like in the next five or six or seven years (holy crap you're growing up fast), your body is going to start preparing for it. Yes, it's early and you won't actually have a baby for a long time, but your body is going to start getting ready.
Every month you're going to bleed a little (yup, from your V, as you like to call it). It's called your period. And you're going to need something called a tampon or a pad to catch the blood. I know, I know, it might seem a little scary or gross, but try not to think of it like that. Try to remember that it all happens so that one day you can do the most amazing thing on earth. Make a baby.
If you ever have questions about it, or want to know the science about why you bleed, I'm happy to tell you more. You can ask me anything anytime. Or if you're too embarrassed to ask specific questions, just mutter, "Period, explain," from the backseat of the car, and I'll start telling you more about it. And when you've had enough, just say "Stop," and I will immediately stop talking. Like mid senten-
And in a few years, I'll put some tampons and pads under your sink so they're there for you whenever you get your period. I hope you'll come tell me about it so I can help you and congratulate you and swoop you out for a very fancy girls' women's dinner (we won't tell anyone why) and we can celebrate how awesome it is that we are now both women. Amazing, miraculous, fantastic, strong, awesome women.
Love,
Mom
Badadadaaaaaaa, this post was sponsored by the amazing and wonderful LOLA!!!!!!! No, LOLA is not a person. It is a brand of tampons, pads and liners that are made of 100% organic cotton, unlike a lot of the products you buy at the store that are made with synthetic fibers and other crap.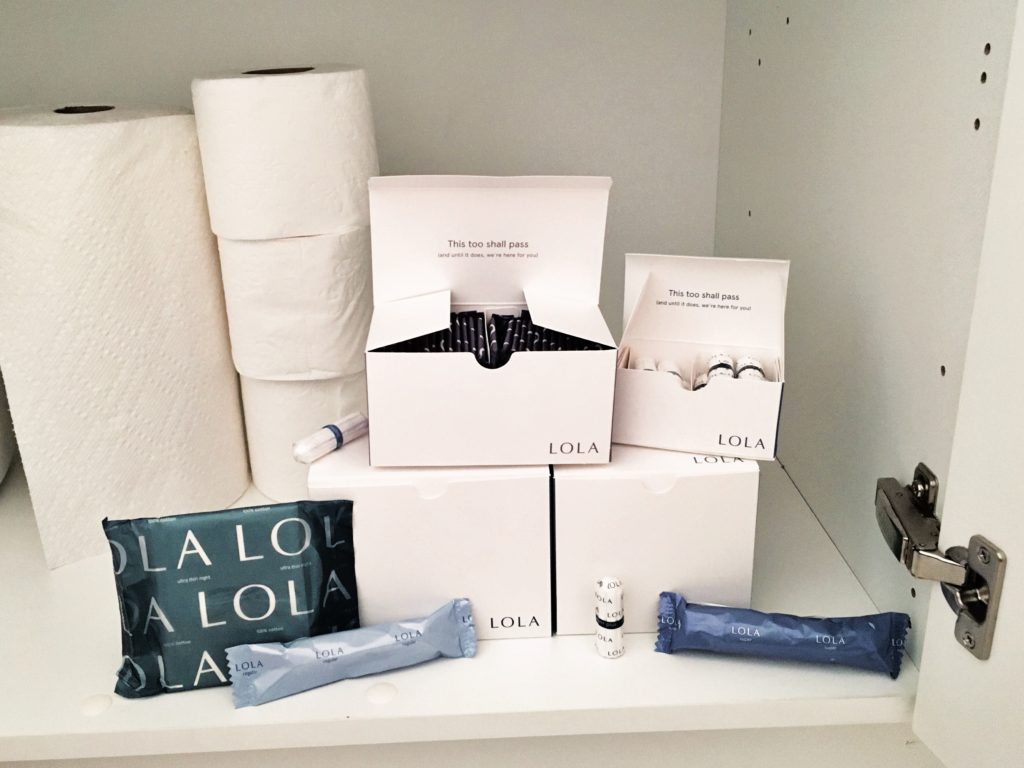 Do you know what your vagina is eating? Hmmm, wait, that sounds weird. But seriously, if you're like me, you put tampons into your body at least five days every month (that's SIXTY days a year) (that's 2220 days in your lifetime!!). The last thing I want to do is put dyes and chemicals into my hooha that often.
And with LOLA you can customize your own personal box of feminine products (I'll take 6 supers, 12 regulars, and a box of pads, please) and they'll be shipped to you every month or every two months (so you won't have to send your confused and embarrassed hubby to the store to get them). I tried them and they work great. Totally absorbent to take care of Aunt Flo when she arrives every month (grrrrr, worst houseguest ever).
Just click here and use the code BABYSIDEBURNS to get 60% off your first order!!!
If you liked this, please don't forget to like and share it! Thank you so much!!
#sponsored #puttingfoodonmytable #ionlypromoteproductsireallylike