OMG, I can't believe I went out in public looking like this
It's official. I've hit rock bottom. It all started about four weeks ago when my hubby and I were watching TV on the couch one night. I had my computer in my lap and I was shopping on the Internet.
HUBBY: What are you looking at?
ME: Nothing.
I tried to angle my screen away from him, but it was too late. BUSTED.
HUBBY: That is not nothing.
ME: Fine, you caught me.
HUBBY: Don't you already have one of those? You want another one?
ME: I kind of want a fancier one.
HUBBY: (laughing) Fancier? There's no such thing.
ME: I might get one in leather. They're in style now! They call them belt bags.
HUBBY: I don't care what they call it. It's a FANNY pack. There is no way to make a fanny pack cool.
And deep down inside I knew he was right. I mean hellllooooo, it's called a FANNY pack. It really can't get any lamer than that. Plus, I already had one and I didn't really need another.
ME: Fiiine.
And I closed my computer and stopped shopping. But then a few weeks later I was packing for our trip to Disney and I was like awwww screw it, I'm bringing it along just in case. I mean I wasn't actually gonna wear it but I tossed it into our luggage. Just. In. Case.
And then the first morning of our trip we were getting ready to go to the theme park and I was stuffing all my crap into my pockets wondering where the heck I was gonna put my tampons and my sunglasses and my phone and my tissues because they didn't all fit. Aggghhhh, it's not fair, my hubby has cargo shorts with giant pockets and all I have are these itty-bitty pockets that can barely fit a breath mint. Screw this. So I reached into the luggage and I strapped on, drum roll please, badadadadadadada my FANNY PACK!!!!
My hubby took one look at me and was like…
HUBBY: Are you seriously going to wear that?
And I held my head high…
ME: YES I AM.
… but I wish I looked in the mirror before we left.
So we left our hotel room and we were walking around the theme park and I was LOVING my fanny pack and totally rubbing it in my hubby's face.
ME: Uh-oh my nose is running. Good thing I have tissues in my FANNY PACK!!
HUBBY: (eye roll)
ME: Oh darn it, my sunglasses might fall off my head on this ride. Better put them in my FANNY PACK!!
HUBBY: (eye roll)
ME: Honey, if you're worried about your phone getting wet, I have plenty of baggies.
HUBBY: Sure, I'll take one.
ME: Great, let me get it out of my FANNY PACK!!
I had even brought along a little battery-powered fan with me and I was able to clip it to the zipper pull of my totally kickass amazing awesome fanny pack.
Anyways, I was walking around feeling hunky dory about my functional accessory, and I was so confident that at one point I said, "Honey, can you take a picture of me in my FANNY PACK?" He rolled his eyes but he took it anyway, and I looked at it. And that's when it hit me. Oh. My. Gawwwd. Is THAT what I look like? That is not hilarious. That is horrendous.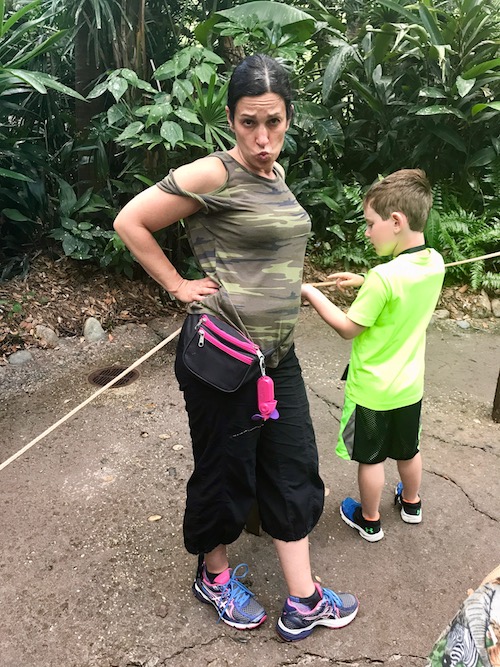 I took one look at myself and I was mortified. MOR-TI-FIED. Holy crap, is that what I look like walking around with my fanny pack?!! In public?!!!
I was about to rip it off when I don't know why, but something suddenly occurred to me. Wait a sec, I am a mom. I planned, arranged, shopped, made lists, packed, mapped out, organized and did everything for this trip. EVERYTHING. And if this stupid little ugly bag makes my impossible job a little easier, WTF do I care what I look like wearing it?
Screw it. I am wearing my fanny pack. And I don't care how it makes me look. That's right, people, I am a proud owner of a FANNY PACK!!!
Of course the second I got home and saw tons of pictures of me looking like this, I freaked out and immediately jumped on my computer to shop for some stylish stuff at thredUP, my favorite online consignment and thrift store!!! Yup, they are the kickass sponsor of this post, and the reason I was able to go from this…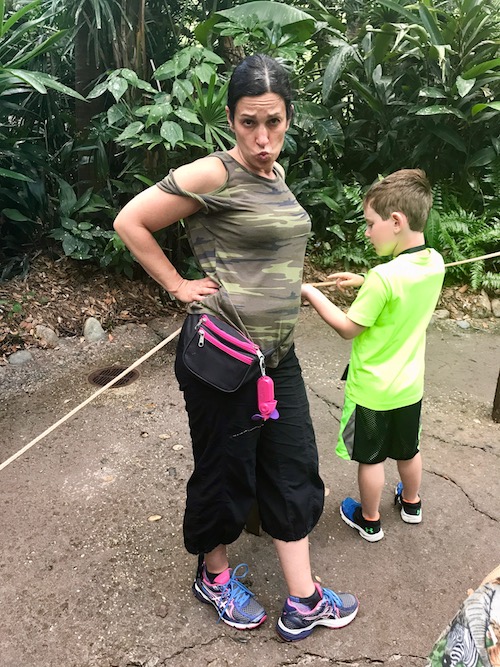 To this…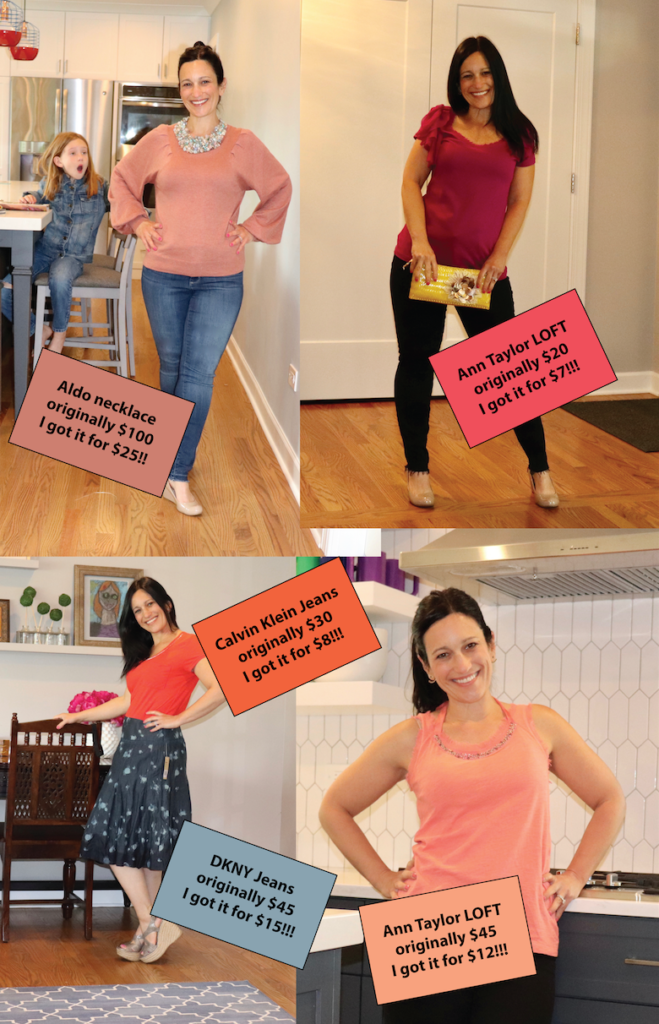 Yes, that is the SAME person.
If you haven't tried thredUP, you are missing out. They have all of your favorite brands for crazy low prices (up to 90% off the estimated retail price!!). Even their packaging is cute!!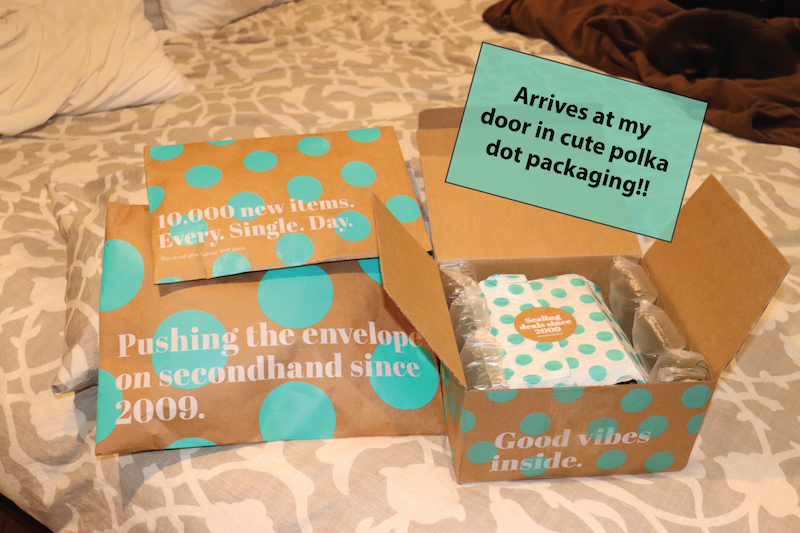 I literally got twelve things for less than $200!!!! My favorite two shirts were less than $10 each!!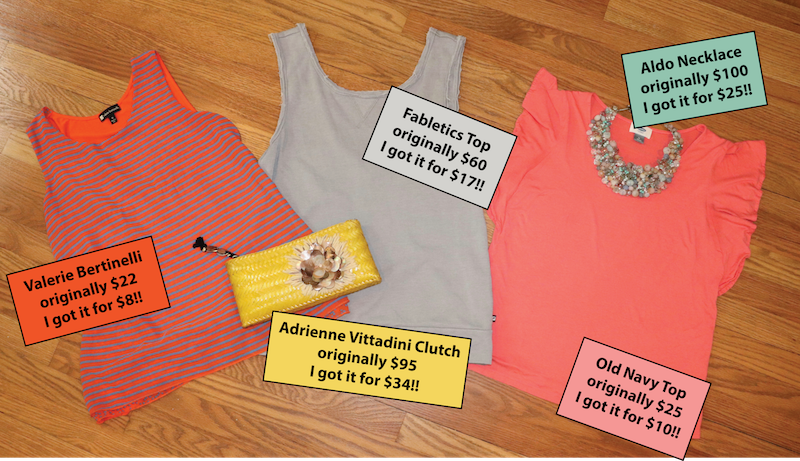 And are you ready for the best part?!!! thredUP is giving 25% off to the first 100 Baby Sideburns readers who place their first order! TWENTY-FIVE PERCENT!! Woohoooooo!!! Click here to start shopping and enter the code SIDEBURNS25 at checkout. (Applies to new US customers only, items priced under $150, excludes Goody Box orders).
Who knows, maybe they even have a stylish fanny pack that I can buy. So I can burn my old one.
If you liked this, please don't forget to like and share it. Thank you!!