Together we can change the world one awesome kiddo at a time
This is a very special post. And I'm warning you in advance that it's not funny. Not funny at all. In fact, it's kinda sad. It started a couple of years ago when Zoey and I were driving somewhere and she said…
ZOEY: I wish we had a bigger house.
And I managed to keep my cool, but inside my head I was going ballistic. Are you F'ing kidding me?!! Do you know how lucky we are?!! You have a great house, you're never hungry, and you have like a million toys. Do you know how the rest of the world lives?!! And then something occurred to me. 
Wait. She doesn't.
It's not like we're the Jolie-Pitts traveling all over the world and seeing what other people live like. I mean yeah, I've tried to show her videos of kids in other situations– hungry, homeless, sick, etc.– but she doesn't get it. I mean duhhh, I'm showing her those places on the same screen she watches Sponge Bob Square Pants on. How is she gonna understand what's reality and what's not?
So the day she said that, I decided to something about it. I decided we were going to start volunteering. Like REAL volunteering. Not like when I tell her to pick out ten toys to donate. We all do that shit. I mean not that it's shit (it's great!), but this is basically what happens when I do that. 
ME: Go pick out some toys to donate. 
ZOEY: Heyyy, here's a toy I never play with anymore so I'm gonna give it away.
As if THAT'S a sacrifice. And then we put it in the driveway to be picked up or drop it off somewhere and I try to explain to her that it's going to make some little kid very happy but she has no clue where it really goes. 
Nope, this time let's REALLY do something that's going to teach her about the world outside our bubble. 
So I started to look online for a place we could volunteer. And I kept hitting the same roadblocks. Must be 13+. Must be 10+. Must be 18+. AGGGHHHH, why is it SO HARD to find a place I can volunteer with my kids?!! And then suddenly I struck gold. The Honeycomb Project. It's right here in Chicago (but don't worry, I did a bunch of research and found kids' volunteering organizations all over the country that I listed below). Basically The Honeycomb Project puts out a calendar every month and you can pick the project you want to do with your kids and sign up. AMAZING. And when you go to the project, they explain it in the most awesome way that kids will understand.
We've made cards for veterans on July 4th. We've built shelters for feral cats. We've gotten rid of invasive species in a nature preserve. And last weekend we did my favorite project of all. A project that truly taught Zoey how lucky she is, and how important it is to help out people who might need a little compassion. We went to an amazing place called Cradles for Crayons.
After cleaning and sorting toys for a while, Zoey was asked if she wanted to help put together a back-to-school bag for a child.
ZOEY: Yes!!
WOMAN: Okay, Zoey, here's a list. You're putting together a back-to-school bag for a nine-year-old girl named Maria.
ZOEY: I'm nine!!
WOMAN: Perfect, then you'll know what kind of stuff she might like. Look at the items on the list and then go to the shelves and collect them in your cart.
And Zoey took the job VERY seriously. She went from shelf to shelf collecting each item.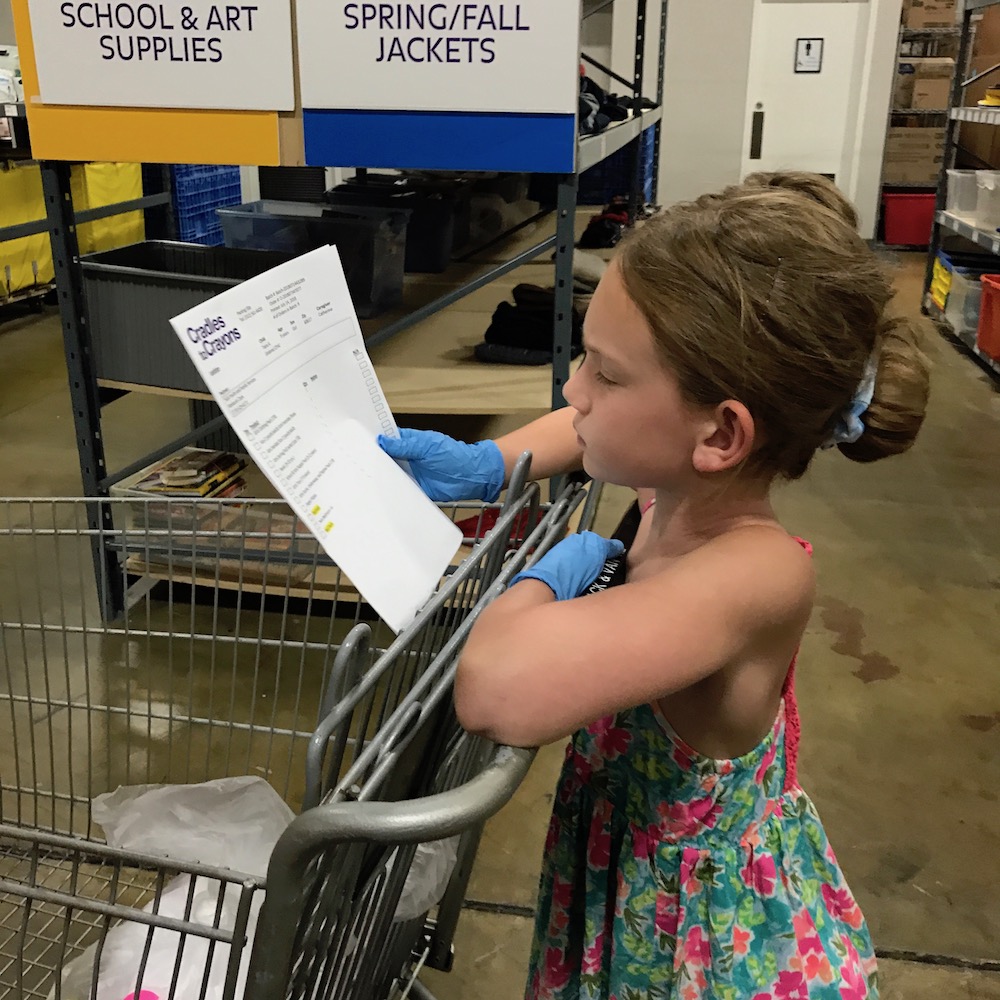 Only here's the thing. When Zoey looked at the place where backpacks are, there were only two boring canvas ones. One gray and one navy. Nothing exciting. Just plain. Zoey picked the navy one for Maria.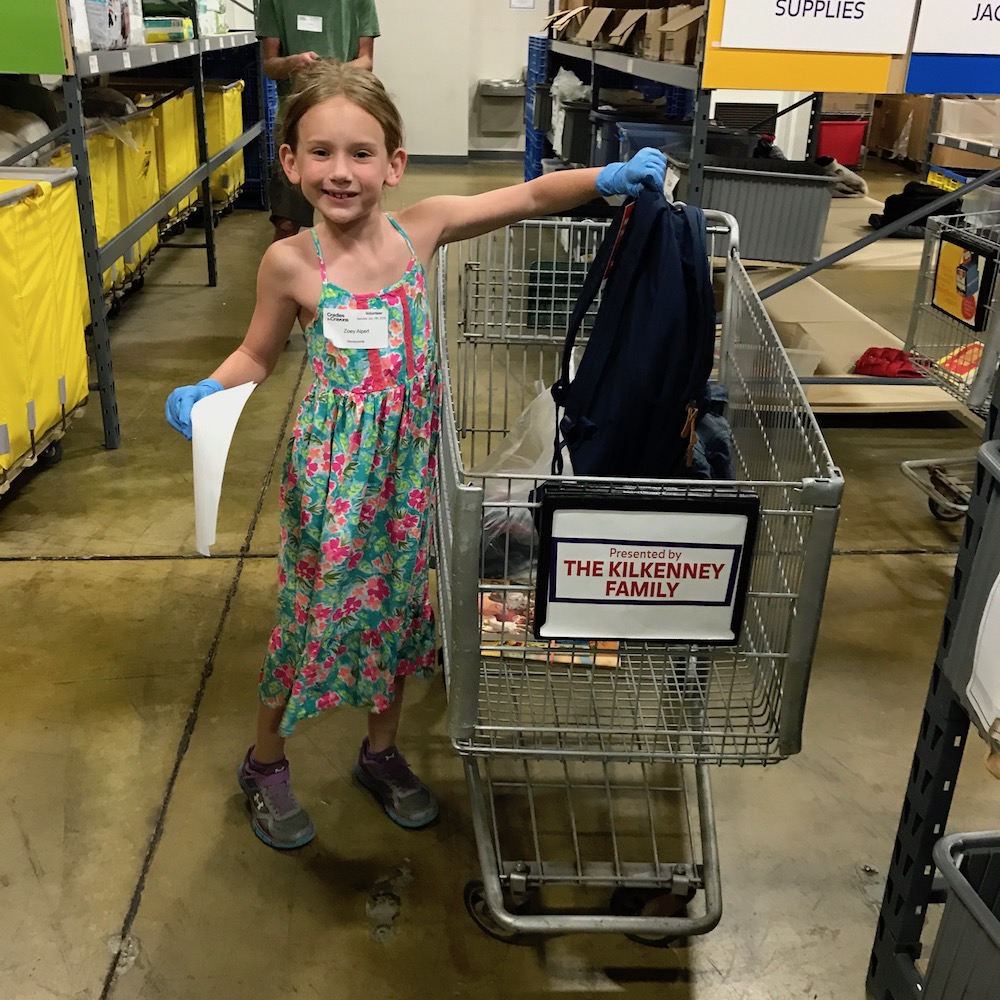 And when Zoey went to the shelf with shoes, there was only one pair, so she picked them up and tossed them in the cart. And the list said Maria needed a jacket so Zoey went to the jacket shelf, but there was nothing. Not one single jacket.
ZOEY: What do I do?
WOMAN: Let's take a peek in the boys' section. Do you see one that might be okay for a girl?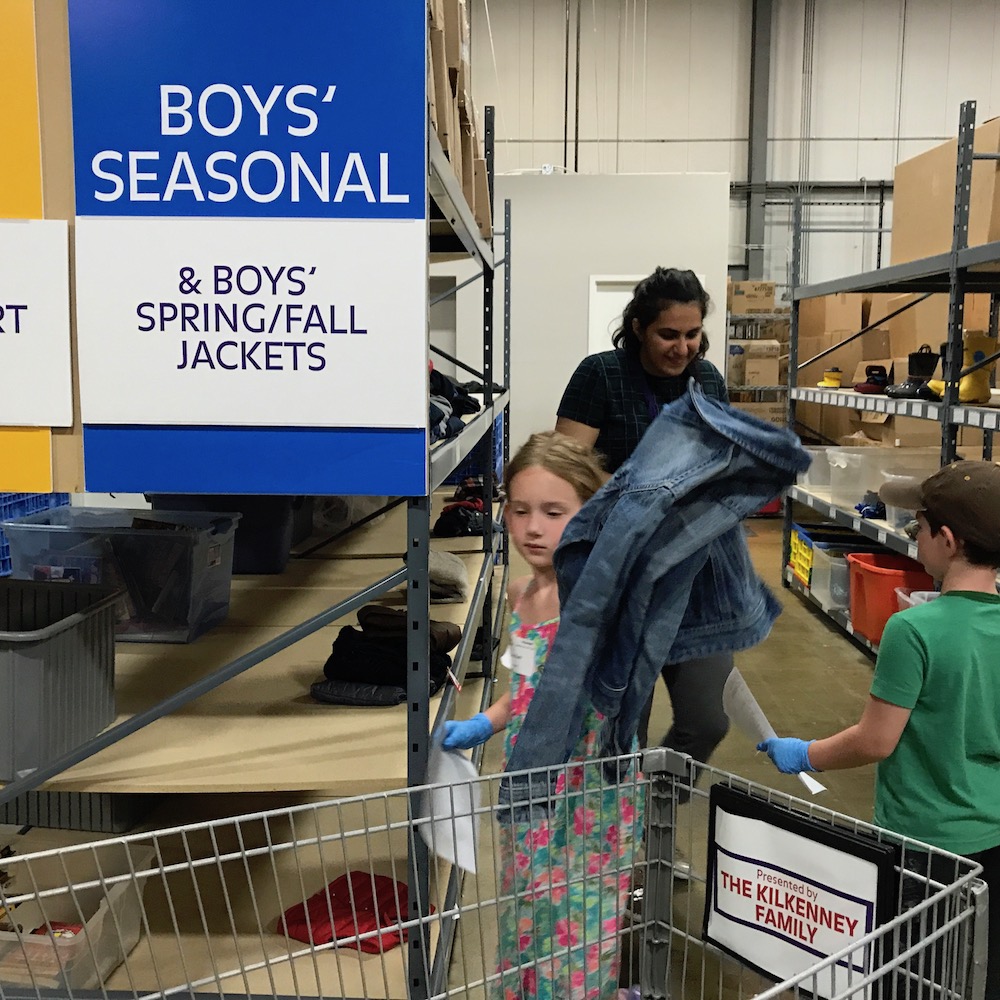 Zoey found a jean jacket which was fine, but I could see her brain working the whole time. I wondered what she was thinking, but I forgot to ask her after the project. And we didn't really talk about it until about a week or so later. Yesterday I was driving with her and something occurred to me. 
ME: Hey, Zoey.
ZOEY: Yeah?
ME: You know what's kinda cool? Maybe today's the day Maria is getting the bag of stuff you put together for her.
ZOEY: Who's Maria?
Awwww shit, seriously? She forgot already?
ME: Remember when we went to The Honeycomb Project last week and you got all that stuff together for that girl Maria?
ZOEY: Oh yeahhhh.
Phew, it must be seeping in a little.
ME: Maybe Maria is getting her bag today. She's probably so happy to get it.
ZOEY: I don't think so. 
ME: What? Of course she is.
ZOEY: No, Mom. All they had for her was a boy jacket. And the backpacks were really boring.
ME: She'll appreciate anything she gets, honey. If she didn't get that backpack, she wouldn't have ANY backpack at all for school.
ZOEY: How would she carry her stuff?
ME: Hmm, I don't know. 
ZOEY: That's sad.
ME: Yup. That's why I'm always telling you to be thankful for what you have.
ZOEY: I am.
And she is. Today.
Of course tomorrow she'll probably complain because so-and-so has more Squishies than her. Or so-and-so has a better bike. Or so-and-so has four American Girl Dolls and she only has two. And I'll have to remind her…
ME: Do you know how many American Girl Dolls MOST kids in the world have?
ZOEY: How many?
ME: Zero.
ZOEY: Seriously?!!
ME: Seriously. I want you to remember something important, Zoey. There will always be people who have more than you. But there will always be MORE people who have less than you. You have to be grateful for what you have, and try to help the people who need it. 
ZOEY: I will. Mom, can we go to Target today?
ME: Are you serious, Zoey?!! We literally just got done talking about how we should be thankful for what we have. (deep breath out) What do you want to get there?
ZOEY: I want to get a backpack to give to one of the kids at that place.
Holy crap, it's working.
Want to find a place where your kiddo can volunteer? As promised, here is a list of kid-friendly volunteering all across the country (and even one for my Canadian friends!). And if you know of any great volunteer projects in your area, PLEEEEEEASE add it to the comments below or on Facebook where I shared this post. Start your comment with the name of the city so people in your area can easily find it. Together we can change the world one awesome kiddo at a time.
If you liked this, please don't forget to like and share it! Thank you!! And please share any kid-friendly volunteering places that you know of. THANKS!!!!!