Oh nooooo, our pet died and the kids are taking it very, uhhh, weirdly
So I'm giving Holden a bath the other night when suddenly I hear Zoey screaming bloody murder from the other room. I can't tell you how many times this happens in our house on a daily basis. Because she stubs her toe, or she can't fix her pants that are inside-out, or she finds one of her stuffed animals in Holden's room and claims he stole it. There are like a million reasons she'll start screaming like she's being chased through the woods by an axe murderer wearing a hockey mask. So I patiently finish washing the shampoo out of Holden's hair and then I slowwwwly get up to go see what's wrong.
ME: What's wrong Zoey?
Awwwww shit, I see immediately why she's screaming. She's standing over her guinea pigs' cage and there he is. Darth Vader. Lying on his side with his eyes half closed. Ruh-rohhhh, guinea pigs do not lie on their side.
So I remain calm (total lie, I'm freaking out and screaming for my husband) and I guide Zoey away from the guinea pig into our bedroom to try to console her. She's bawling and I'm putting my arms around her while she's sobbing.
ZOEY: Whhyyyyyyyy did this happen??!!!!!!
ME: I don't know, honey.
ZOEY: But they're supposed to live 3-5 years!!!!
ME: He must have been sick or something.
ZOEY: I'm a terrible mom!!! I didn't even notice my child was sick!!!
ME: No honey, there was no way for you to know. 
ZOEY: But why did Holden have to die?!!!!!
ME: Holden????
ZOEY: That's what I changed his name to last week. He's Holden, and the other one is Trevor (that's one of Holden's best friends).
ME: Ummmm, okayyyy. I didn't know.
So I let her cry for a while longer while I go get a shoebox for my hubby to put Darth-Holden in.
ME: Here's a box to put him in.
HUBBY: Are you sure he's dead?
ME: (gestures to the lying down guinea pig) Uhhh, seriously?
But my hubby isn't convinced so he puts a plastic bag on his hand and pokes it just to make sure. How hilarious would it be if the guinea pig jumped up and said "boo?!" But alas, nope. Darth-Holden is stiff as a board. And then Zoey walks into the room while we're "taking care" of him.
ZOEY: (sniffling) We have to make the box nicer.
ME: Sure, honey, whatever you want.
So we fill the shoebox with some of the guinea pig bedding and gently lie the guinea pig on top of it and then Zoey finds a little doll blanket and tucks the guinea pig in.
ZOEY: Oh, and Mom, can you get a flower for it?
ME: Sure, honey. 
I have to admit, his little makeshift "coffin" looks pretty nice for a resting place.
And then we hear Holden yelling from the bathtub (Because yes he's been sitting in there turning into a prune this whole time and we kind of forgot about him. Whoopsie).
HOLDEN: Why is Zoey crying?!
So Zoey carries the box into the bathroom to show him.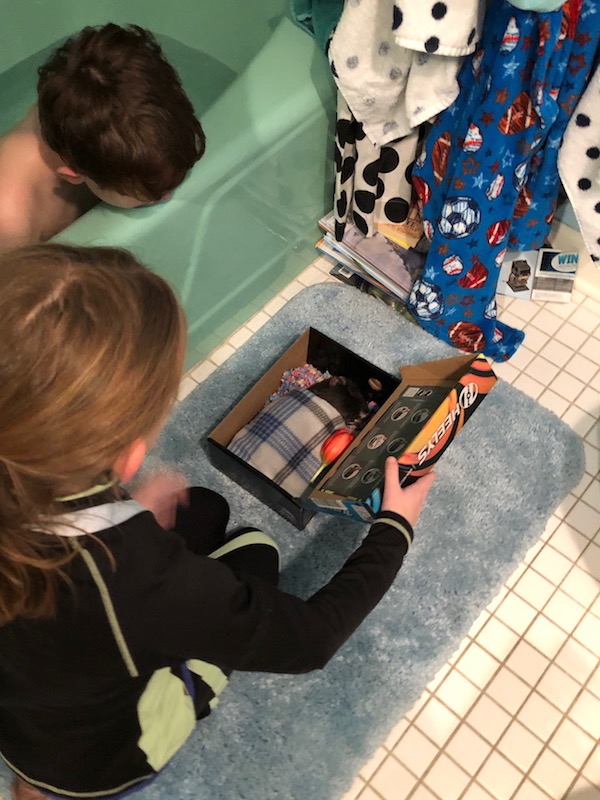 ZOEY: Look, Holden. 
HOLDEN: Is he dead?!!
ZOEY: (somber) Yes, buddy. Holden died.
Okay, this is getting a little F'ed up. My daughter is showing buck-naked Holden her dead guinea pig named Holden. Ummm.
HUBBY: Zoey, do you want to say a few words?
She does.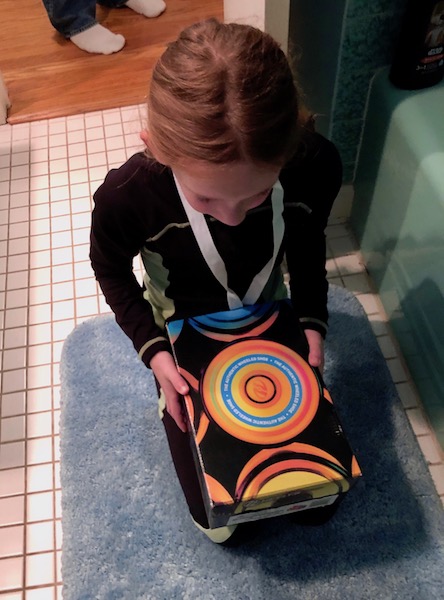 ZOEY: I'm going to miss you so much, Holden. I named you Holden because you were my favorite and you had all of the special characteristic traits that my brother has.
Holden of course is beaming ear-to-ear hearing this eulogy and doesn't look remorseful whatsoever. And when Zoey's done speaking, my husband takes the box from her, and she asks if she can facetime her friend Hannah and tell her the bad news.
ME: Of course you can, sweetie, whatever you want.
And I should probably warn Hannah's mom that she's about to get a facetime call about a dead guinea pig, but it all happens very quickly and before I even have a chance the girls are looking at each other through the phone.
ZOEY: (dramatic) Hannah, guess what?
HANNAH: What?
ZOEY: (in her most somber voice ever) Holden died.
HANNAH'S MOM: WHAT?!!!!!
OMG, did she seriously just tell them Holden died?!! So I'm screaming in the background.
ME: No, not Holden!!!!!!! Darth Vader! The guinea pig!!!!
HANNAH: Ohhhhh, Holden the guinea pig died.
ZOEY: Yes, Holden died and now Trevor is so sad and lonely.
FYI, I look at Trevor the guinea pig and he's running around in circles at lightening speed like he's having the best time ever and doesn't have a clue his brother died.
So Zoey talks to Hannah for a while and when she gets off the phone, she seems a lot calmer.
ZOEY: I feel a little better after talking to Hannah.
ME: I'm so glad, honey. It's important to lean on your friends when bad stuff happens. But we can't keep calling the guinea pig Holden.
ZOEY: Mom, that's his name.
ME: But it's confusing saying "Holden died" because of Holden Holden.
ZOEY: Fine, I guess when guinea pigs die we can call them by their nicknames. Milky Way died.
ME: Who (the F) is Milky Way?
ZOEY: Hellllloooo, my dead guinea pig.
ME: I thought his name was Darth Vader.
ZOEY: It was. And then I changed it to Milky Way. And then Holden. And now it's Milky Way again. 
ME: Oh, good to know.
ZOEY: Hey Dad, where did you put Milky Way?!!
HUBBY: Ummmmm.
ZOEY: Where did you put him?!
HUBBY: Uhhhhh.
ZOEY: Daaaaad?!
HUBBY: (cough cough) in the garage.
ZOEY: WHERE in the garage? In the TRASH?!!!!!!
HUBBY: (sheepish look)
ZOEY: (sigh) Okay. At least he's in a nice box.
And the next day Zoey went to school and she randomly had to bring a bunch of stuff in for science class like plastic cups and aluminum foil and a cardboard box. And when she walked into school, she was holding the box and announced…
ZOEY: Guys, I have to tell you something. My guinea pig died.
And all the kids took a small step backward.
THE KIDS: Is he in the box?
Bwhahahahahahaha. He was not. Thankfully. Because you never know.
And that was that. I was always worried about losing one of our pets. I mean sure I'd talk a big game and say I can't wait for these rodents who poop and stink to go, but it wasn't entirely true. I would never want Zoey to have to deal with the sadness of losing her furry little guys. But honestly, it wasn't as bad as I feared. She was sad, she grieved for about fifteen minutes, and then she said a nice goodbye. And she learned how to deal with death on a very small basis, which might help one day when she has to deal with it on a larger basis.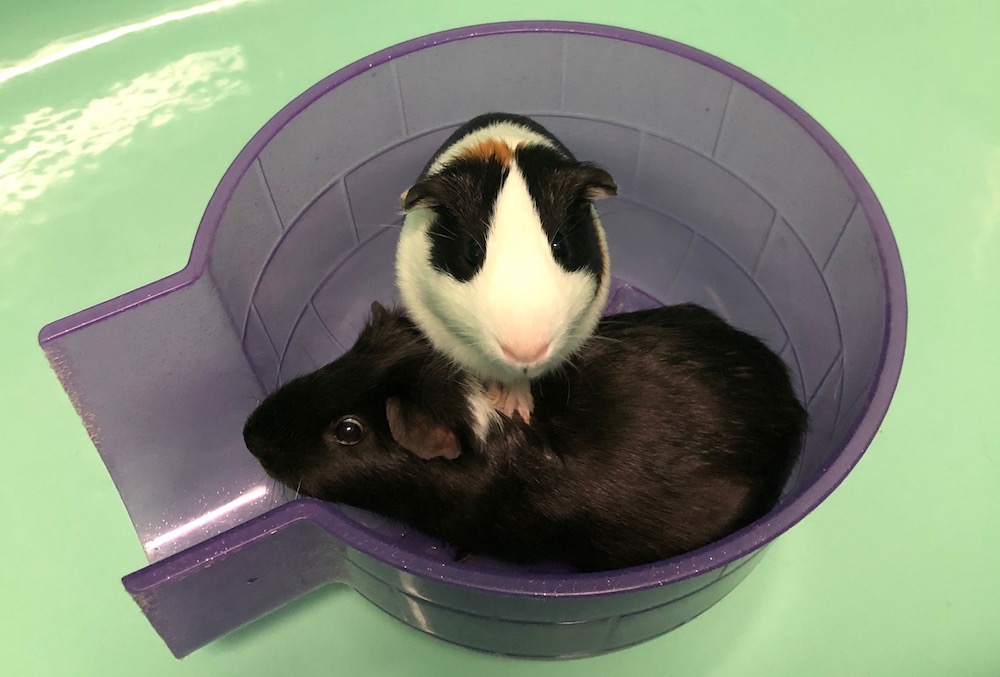 R.I.P. Darth Vader Milky Way Holden Milky Way
2017-2019
We will miss you.
If you liked this, please don't forget to like and share it. Thank you!!