There are the popular girls and there are the "popular" girls
Uggghhhh, here we go. So lately Zoey has started using the word "popular." I mean I always knew it would come up at some point, but I didn't know it'd be in the 4th grade.
ZOEY: She's one of the popular girls, Mom.
ME: The popular girls? What does that mean?
ZOEY: Okay, so there are the popular girls and then there are the "popular" girls.
ME: What's the difference?
ZOEY: Well, some girls are popular because they are really nice and everyone wants to be friends with them. And some girls are just "popular." (she makes exaggerated quotation marks with her fingers)
ME: Who decides they're "popular?"
ZOEY: Ummm, everyone just knows.
ME: Okayyy. Which one are you?
ZOEY: Neither.
ME: You're not popular because you're really nice?
(Zoey sits there thinking for a moment)
ZOEY: I only have like seven friends.
ME: Seven? That's a great number! I'd rather have seven great friends than just a lot of so-so friends.
ZOEY: I'm happy with it.
ME: That's all that matters. Zoey, try not to pay attention to any of that stupid popular "popular" stuff.
ZOEY: I know.
ME: And besides, can we stop labeling people things like popular? Like maybe we can rename the people who have a lot of friends because they're really nice and call them something better.
ZOEY: Like what?
ME: Hmmm, let's think. What if we call them "the Friendlys?"
ZOEY: The Friendlys (thinking it over)? Yeah, I like that!
And so we've started calling them the Friendlys in our house, which makes me much happier. 
As much as I don't want Zoey to even think about this crap, I know she will. It's just a part of getting older. But I'm trying so hard to teach her that the social hierarchy at school isn't actually a ladder with people on top.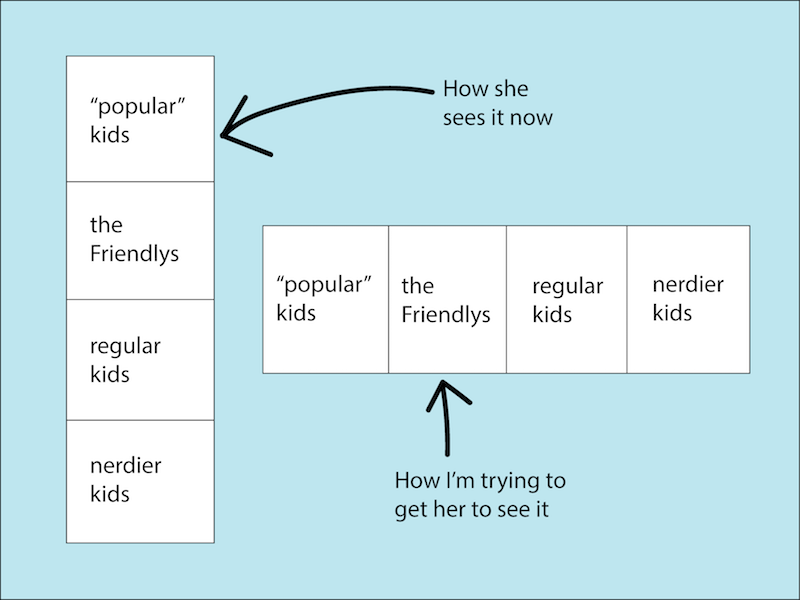 I'm trying to teach her that there are just some people who think they're on top and they'll try to make everyone believe that. Don't believe the hype. It doesn't matter if you're "popular," a Friendly, a bookworm, a jock, a kid who plays foursquare, chess, soccer, an instrument or something else.
ME: There's only one thing that matters, Zoey.
ZOEY: What?
ME: That you find the people who make you happy.
Maybe they're in one group, or maybe they're in a few groups. Maybe they're two people, or maybe they're fifteen. Surround yourself with the people who make you happy, stay away from the ones who don't. And if you do this, everything else will fall into place. Well, a lot of it will.
If you liked this, please don't forget to like and share it. Thank you!! 
Interested in being featured on my blog? I love promoting products that are an awesome fit in my life. Just reach out to the social media influencer agency MediaKix.