Ruh-rohhh, did I scar my daughter by taking her to the Holocaust Memorial Museum
Yayyyy, we're on a super fun girls' trip in Washington DC, and I have SO much fun stuff planned!! A tour of the White House, the Air and Space Museum, the Spy Museum, etc etc etc!!! But as we're driving to the BEP (the totally kickass place that prints all of country's money), the Uber driver points out the Holocaust Memorial Museum and Zoey's like…
ZOEY: Can we go there?
ME: Umm, uhhhh, do you know what it is?
ZOEY: Yeah, when those bad people killed the Jews.
She knew. Kinda. We've slightly mentioned the Holocaust to our kids. And by slightly, I mean verrrry slightly. Like last year I told Zoey about Anne Frank a little and I mentioned that some very hateful people killed a lot of Jews. But that's about it. And I wasn't sure whether she was ready for a "more graphic" depiction of what happened.
ME: We'll see.
So that night after she went to bed in the hotel, I jumped online to do some research, and I found out a few things about the Holocaust Memorial Museum.
The museum is good for ages 12+ but some 10 and 11-years-olds might be ready
There's a special place in the museum for kids to learn and it's called Daniel's Story


If we wanted to see the permanent exhibit I should make reservations for $1 
So I thought about Zoey. She's 10 but she's pretty mature and very sensitive. So okay, we'll go. I figured we can always leave if it's not good for her yet. 
If you're thinking about taking a child now or ever, you should definitely read what I did right and what I did WRONG. Because yes, I did something I would definitely take back if I could do it again. 
The section of the museum called Daniel's Story
We walked through Daniel's Story slowly. I said very little, and let her take as long as she wanted at each display.
By the end of Daniel's Story, she had tears in her eyes, and even though Daniel survived, she was devastated the Nazis killed Daniel's mother and sister. You could tell she immediately thought about her brother and how sad this would make her. It ended in a room where people could write a postcard and put it in a mailbox to Daniel. Zoey definitely wanted to. And so did many of the kids who came through.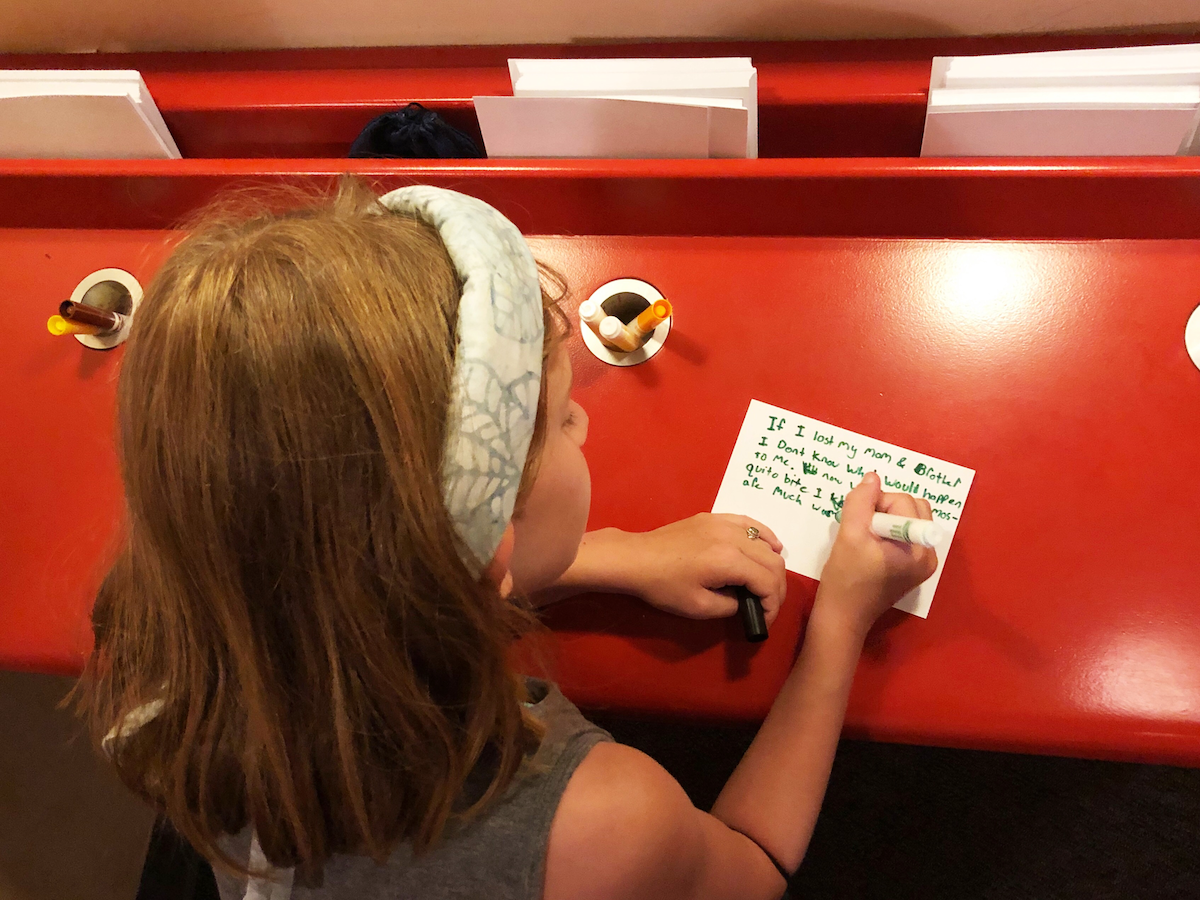 The "other" section of the museum
Like I said, I'd also booked us tickets online to the main exhibit, and even though they only cost me $1, I just kind of had it in my head that we were going. Mistake. We hop on an elevator and head to the top floor where the main exhibit begins. As soon as we step off the elevator, the first thing we're faced with is a giant photograph of dead bodies who had been murdered by the Nazis.
Zoey stands there for a moment trying to figure out what she's looking at, and as soon as she realizes she wants to leave. We start to look for a way to exit the exhibit, but it's not easy. We have to wind our way through hundreds of people who are looking at heart-wrenching letters and pictures and objects from the Holocaust and Zoey is panicked. She desperately wants to get out. She's almost in tears. 
Right before we find the exit, we hear a woman speaking in a video and she's talking about being tied up and how the guards would shoot you if you did something wrong, and Zoey looks at me and says…
ZOEY: Mom, did you hear that?!
ME: Yes. I know, it's very sad.
And then we find our way out. Finally.
All I'm thinking is oh no, I hope my sensitive little girl isn't scarred by this. I hope she doesn't have nightmares. I hope she can forget what she saw and doesn't dwell on it. But then this happens. 
Like pretty much every museum, at the end of the exhibit, we are spit out near a gift shop, and of course Zoey wants to get something. She always wants to get something. Every museum, every roller coaster, every airport, every Disney ride, every time we find ourselves in a gift shop, she begs me. And my answer is always the same. Even at the Holocaust Museum. 
ME: Nope. 
But she insists on looking and she picks up a stone that has a Hebrew word on it, and asks the cashier what it says. She tells Zoey it says "remember." 
ZOEY: Please can I get it, Mom? 
ME: I told you, we're not getting anything. 
ZOEY: What if I buy it with my own money? 
ME: With your own money? Sure. 
So she takes out her little change purse and pays for the stone. Five hard-earned dollars she made by being a mother's little helper.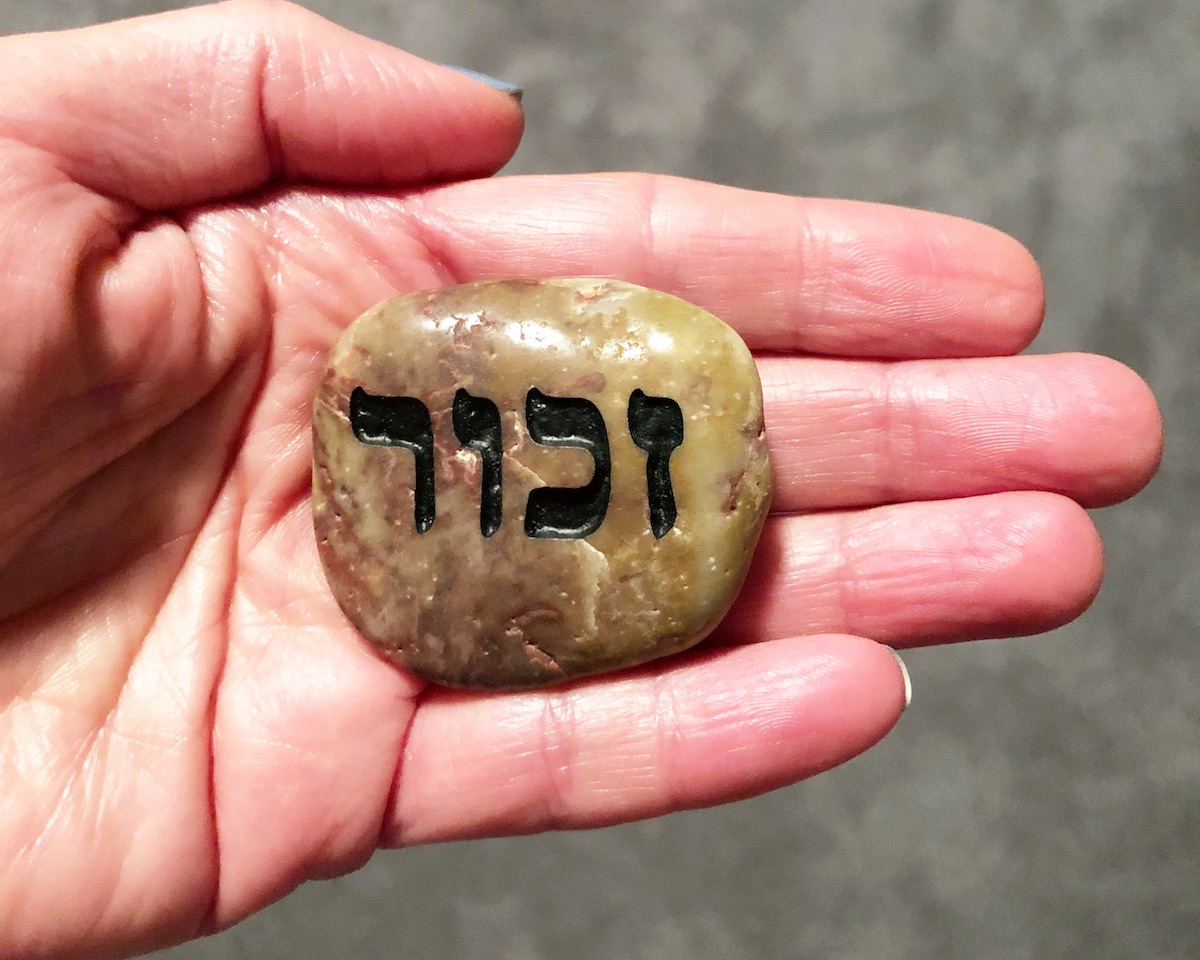 And that's when I realize I was wrong. Not wrong about accidentally taking her to the grown-up section of the museum (although I wouldn't do that again). Wrong about wanting her to FORGET some of what she saw today. She might have seen more than I wanted her to, but now that she knows, she must REMEMBER. Remember what happened. Remember how the world spoke up against it. Remember so it never happens again.
A couple nights later she was going to bed when she came out of her room because she was scared.
ZOEY: Mom, I'm scared.
ME: There's nothing to be scared of.
ZOEY: But what if they take us one day and kill us?
It broke my heart to hear her say this. But I get it. What Jewish person hasn't ever thought this before?
ME: Oh honey, I know, it's scary. But you have to remember the WORLD said no to the Nazis. The WORLD stopped them and saved the Jews. The WORLD will never let it happen again.
Am I sure I'm right? I'm 99% sure. There's always that 1% chance I'm wrong. And this is why you should take your children to the Holocaust Memorial Museum. Parts of it now when they're younger. The rest of it later when they're older. So that we always remember what happened. And we never let it happen again.
If you liked this, please don't forget to like and share it. And never forget to speak up when you see people being persecuted.