Taking your kids to Washington DC will be as awesome for you as it is for them
There's a moment when you'll be walking around Washington DC or driving in a taxi from the airport and you'll look around and you'll be like holy crap. THIS. IS. AMAZING. There's the Washington Monument! And the White House! And Jefferson's Memorial! And the Capitol! Like the real live Capitol.
So much history all in one place.
And suddenly you'll notice a powerful feeling welling up inside you—patriotism like you've never felt before.
When I asked my daughter where she wanted to go on a girls' trip and she said DC, I was like cool. I didn't expect this.
It was our first time there but it will NOT be our last because there's so much we didn't get to do. But I thought I'd share the itinerary we did do in case you want to get that feeling for yourself. And trust me, you do.
Day 1
Zoey has always been obsessed with Native-Americans. Her kindergarten teacher did a lesson on them, and since then, she was hooked. So as soon as we checked into our hotel late afternoon, the first place she insisted on going was the National Museum of the American Indian. It did NOT disappoint. 
Then we headed back to our hotel for a great night sleep.
Day 2
We woke up and went to breakfast at a place called Ted's Bulletin which was fun and delicious, but I'm slightly devastated because I forgot to order a homemade pop tart while we were there (insert ten sobbing emojis here).
Okay so I can't stress this enough. As soon as you know you are going to Washington DC, you MUST MUST MUST email your representative (I made this clickable so it's super easy!!) because they can get you so many awesome free tours. Like our first tour was, drumroll please, badadadadadadada, the White House!!!!! And seriously, the White House is only open for an hour or two in the mornings for tours so it's not easy to get in, but it's worth trying. We got it! And not because I used my powerful Baby Sideburns clout or anything. Bwhahahaha, just kidding, I have no clout. None. Whatsoever. 
I mean seriously, we probably could have ended our trip right then and there and been happy, but we didn't! After the White House, we went to the International Spy Museum. FYI, this is NOT a Smithsonian museum so it does cost money (in case you didn't know, most of the museums in the area are FREE), but it is worth it. 
So this is probably the perfect time to mention that your kids can only do so many museums before they're bored out of their minds. Whoopsie. 
Oh wait, one more place to see today, Zoey! I would have taken her back to the hotel at this point, but we had one more tour set up through our representative's office. The BEP!!! Confession, I had no idea what the BEP is. It's the Bureau of Engraving and Printing and it's where they make all our country's money. ONE BILLION DOLLARS A DAY!! 
Yes, that was all one day. 
Day 3
ME: Want to go to another museum?
ZOEY: No. 
ME: What do you want to do?
ZOEY: The pool!!!! 
Booking a hotel with a pool was brilliant. It's DC. It's hot. 
It was the perfect way to recharge ourselves before we went on yet ANOTHER tour we got through our representative. The United States Capitol!!!!
She cashed in! 
Speaking of deeelicious food, we hit three other awesome places while we were in Washington DC. 
Day 4
Last day!!!!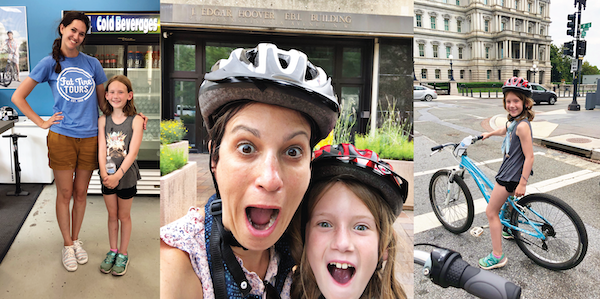 Okay, so our Fat Tire Bike tour of the monuments was SUPER FUN, but I made a mistake. I should have booked this at the beginning of our trip. It's a great way to orient yourself in the city and to see the monuments for the first time.
FYI, this tour is awesome for big kids who have very good biking skills. You do ride in the bike lanes of streets, but our guide was great about making sure Zoey was right behind her and okay. P.S. If your kiddo is younger and smaller, they have a tandem bike that would be awesome. 
Last but definitely not least, we had half a day left. I had planned on visiting the Newseum and Astro Doughnuts and Fried Chicken but Zoey wanted to go somewhere else. The United States Holocaust Memorial Museum. After much research and deliberation about whether she's old enough, I decided to take her. 
And then we ran out of time. Darn it, it's too bad we didn't do very much in 4 days. Just kidding!!
I hope this is helpful if you're taking your kiddos to Washington DC or convincing if you weren't planning to. Every child in this country should get to see our amazing capital. It'll make them (and you) so proud to be an American. 
If you liked this please don't forget to like and share it. Thank you!!