If you ever have to travel and leave your kids, you're gonna want to read this
You know what sucks? When you have to travel and miss your kiddos. I mean yeah, sure, sometimes it's nice to get a good night sleep and take an uninterrupted shower and eat a whole meal sitting down without someone constantly asking your for milk or juice or dessert 9000 times, but then you remember something. You miss them. You really REALLY miss them. 
Maybe you're just missing bedtime or dinnertime, or maybe you're missing something bigger like a recital or the first day of school, and you can't help but feel like a crappy mom. But here's the thing, you're NOT crappy. In fact, you're like the total opposite of crappy!! You're a mom who's putting a roof over their head, and food on the table, and setting an awesome example by showing them what it means to be a hard-working successful woman. But still, it doesn't always feel that way, does it? 
So a few weeks ago this was me. I had to travel for work and I was feeling extra guilty because I was gonna miss a play that Zoey was in, so I got a little more Pinteresty than I usually do. See? 
And then I did something else. I asked you guys what you do when you have to travel. Holy crap did some kickass ideas come in. So whether you're super creative and see one of your ideas here, or whether you're someone who was born without the Pinterest gene and need to steal someone else's, here you go. A bunch of awesome things to do when you have to travel but want to stay connected to your kiddos: 
I read a chapter of a book to my daughter each night. When I am away, I bring the book and read it to her over the phone at bedtime.
-Julie Drexler Desmarais
When I travel for work, my girls and I sport matching hearts on our wrists (my oldest also asks for one on particularly tough days)
-Jessica Wilson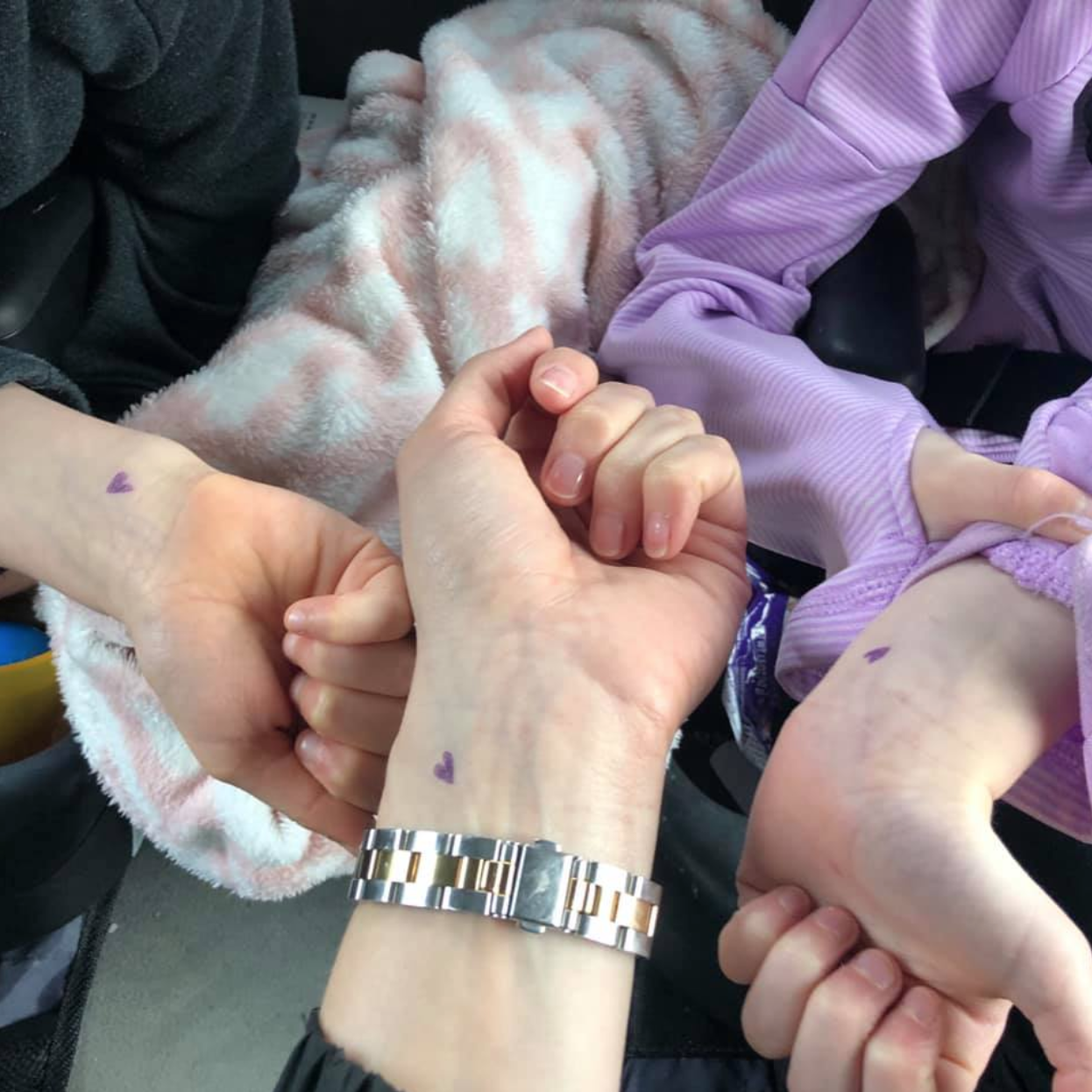 I make ring chains out of paper. One ring for each day I'm going to be gone. Then they get to rip them off each day and count down the days till I come home. Sometimes I write messages on the rings
-Lindsey Schroeder Miller
When my son was little, and my husband had to go out of town, he took a little toy rhinoceros with him on business trips because it was small enough to fit in his pocket. My son named the rhino, Sun. Then my husband would take pictures of Sun in different places each day of his trip and send them to us. 8 years later, we still get occasional pictures of Sun and my 3 kids still enjoy the silly connection. 
-Tracy Jones Samek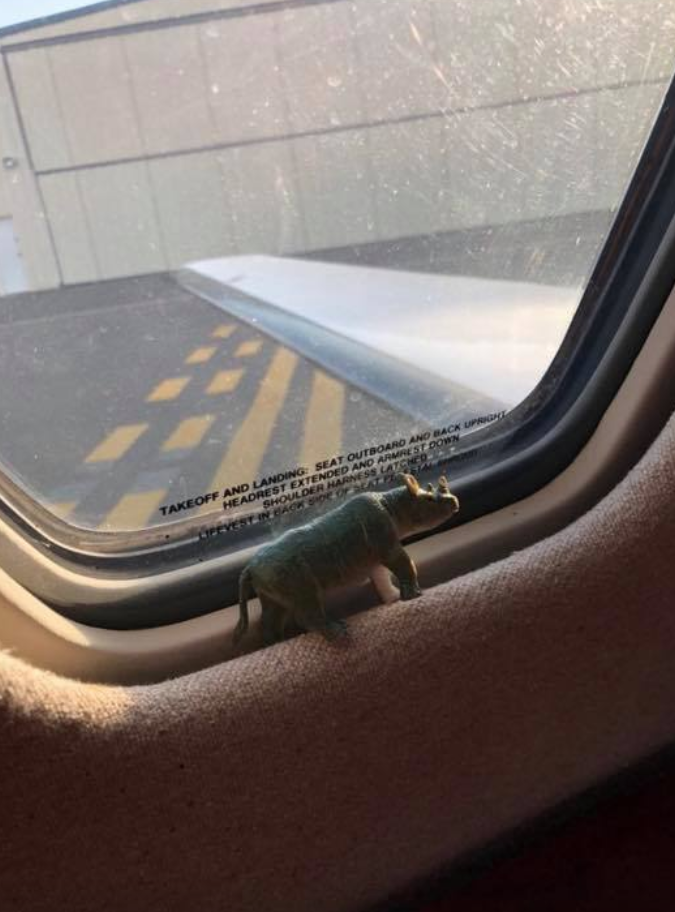 When my son was little and I had to travel for work, I bought 2 matching bears and would leave one at home with him and take one with me, and I would tell him that if he hugged his bear, I would feel it when I hugged mine and vice versa.
-Jessica Fox
My husband sings the same song to my son before bed every night. When he has to be away, he prerecords them, one for each night, with a little comment about what my son did that day.
-Liz Burke
We take one of the kids stuffed animals and send pictures of them enjoying our trip.
-Jane Adams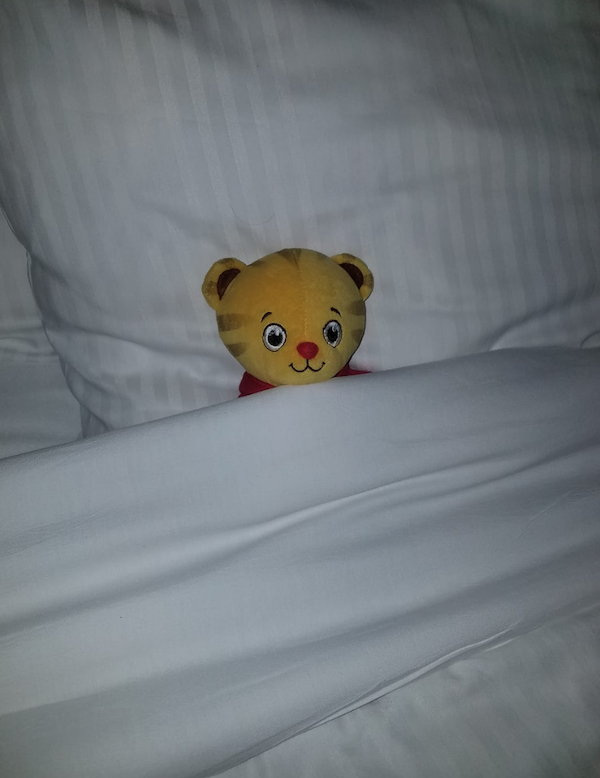 When my parents would go on trip , or I would go on an overnight trip for school or Girl Scouts, my mom would always leave my sister and I cards with a lipstick kiss. She would leave one card for every night we were apart. It was my goodnight kiss. When I went away to college she made me a tiny framed kiss that said goodnight under it! I'll never forget it. 
-Suzy Allen
I kiss post it notes with lots of lipstick and hide "mommy kisses" around the house for them to find
-Doreen Bandel Buksner
My 6 year old daughter went on her first airplane vacation with my parents, sister and my niece at the beginning of July and I ordered a voice recorder off amazon so that I could record my voice singing her favourite bedtime song/mommy and daddy saying I love you ! I cut open her favourite stuffie and put it inside to surprise her. Apparently it kept going off when she was sleeping. She told my sister "Jesus auntie I can't wait to be home so mama can take this out of bunny" lmfao ??‍♀️
-Natasha Wilson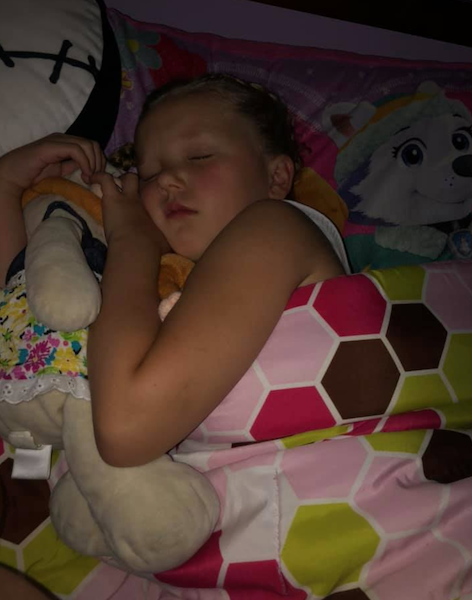 I write notes for them in dry erase marker on the mirror in their bathroom.
-Nicole Anastasia
My dad worked away from the house when I was little, so he set his ringtone on my moms phone to say "I love you, Boot (his nickname for me)". We'd talk every night, but my mom would send him a text when I was saying my good nights, and he'd call so I could hear him say that without getting distracted by a whole conversation. I always thought it was really special. ?
-Makenna Shaye Robertson
When I was little my dad always did my bedtime routine. So when his radio DJing job switched him to night shifts he bought me a little pink radio and would stop every night at my precise bedtime and tuck me in on air.
-Kayla Hellman Meisel
My kids pack a small toy in my suitcase and I take pictures from the road
-Ann Marie O'Donnell Bell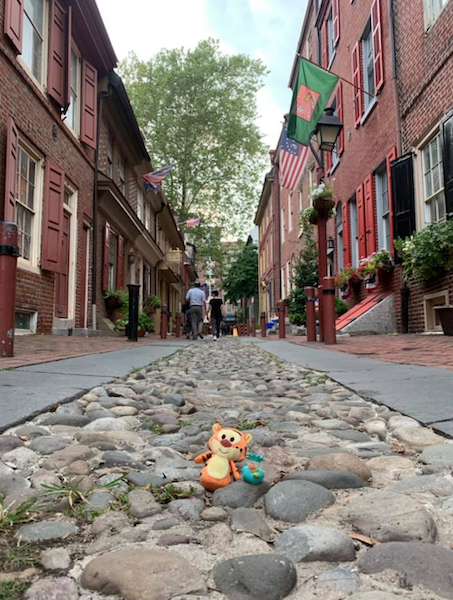 Turning it around, this is what my kiddo leaves for me every night – a note on the end of the toilet roll saying she loves me 
-Ophelia Dodds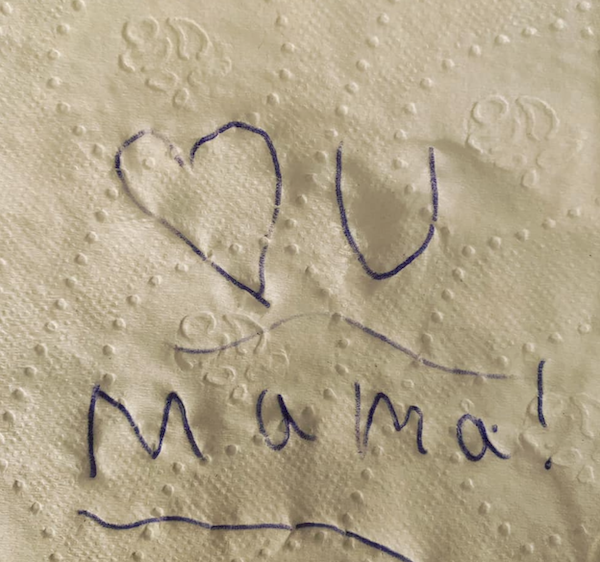 And last but definitely not least, and man do I wish I had a picture to go with this one…
When I was little my dad would draw a mustache on his kids when he kissed us goodbye (very early in the morning before he'd be gone for a week). We would wake up and race to the mirror to see our mustaches (they were always silly/weird) and we would laugh so hard.
-Felicia Borges
If you know a mom or dad who travels, share this with them!! And if you have an idea I didn't include here, feel free to put it in the comments. 
If you liked this, please don't forget to like and share it. Thank you!!